I thought I'd put together a list of all the places we've visited along our trip through the various United States.  They will be in order of appearance and if we happened to stay overnight, I'll note it.  Also, as a way to keep a list of the various attractions we saw in each place, we'll put those here as well.   For the record, stopping for gas does not earn a spot on this list.  We would have to have actually spent some time in the location and interacted with the people or the place in some way.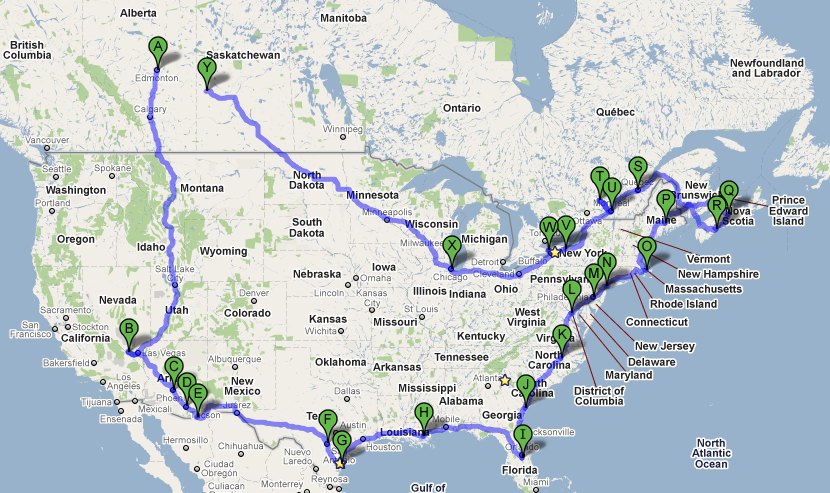 [NOTE: We're WAY behind in posting travel pics and blog posts because of the nature of our travel since leaving Texas. We've been practically non stop traveling, touring, and exploring without any down time to process images or write blog posts. In some cases, we've traveled 10 days straight without even an internet connection. We WILL update the blog as soon as we can. In reality, as I write this, we're past 14,000 miles and are in Chicago, on our way back to Alberta. (updated May 22, 2010) We made it home safe and sound and will continue to update the blog as we process the images and write the posts.]
Montana
Great Falls (overnight)
Butte
Clancy
Idaho
Idaho Falls (overnight)
Utah
Salt Lake City (overnight)
Nevada
Mesquite (overnight)
Pahrump (3 nights in Preferred RV Park)
California
Death Valley Junction
Furnace Creek
Rhyolite Ghost Town
Beatty
Stovepipe Wells
Arizona
Goodyear (30 days in Destiny RV Park)
Tucson (3 nights in Whispering Palms RV Park)
Benson
Tombstone (3 nights in Stampede RV Park)
New Mexico
Texas
El Paso
Van Horn (one night at the KOA Campground)
San Antonio (1 night at Hidden Valley RV Park, 6 nights at Braunig Lake RV Park)
Corpus Christi / Portland
Beaumont – 1 night at Hidden Lake RV Resort
Mexico
Walked across border into Progeso
Louisianna
New Orleans – 7 days at Pontchartrain Landing RV park
Swamp Tour
St Patricks Day Parade
Garden District walking tour
Mississippi Paddleboat ride
Ninth Ward tour (Hurricane Katrina damage)
Florida
Kissimmee – 8 days at Mill Creek RV Resort
Georgia
Savannah – 9 days at the South Savannah KOA campground
Tybee Island ( saw the Tybee Island Lighthouse)
Cemetery Tour
Photographed in Chipewaa Square by Tim Zeilenbach, otherwise known as the Forest Gump square.
Bonaventure Cemetery
Georgia Guidestones
Drove back to Titusville Florida to see the Space Shuttle launch at 6:21 am Monday April 5th
St Augustine and area (during shuttle launch road trip)
North Carolina
Wilson – 5 days at Kampers Lodge
(will update asap. Whirlwind traveling and exploring since North Carolina, without time for any blog updates. Since NC, been to DC, Philly and New York City (a week before the Times Square attempted bombing). Then to Cape Cod and Martha's Vinyard. Then to Plymouth Rock, Bangor Maine (where we pulled the RV up in front of Stephen Kings house for a picture). Then we passed back into Canada from Maine to New Brunswick. We drove into the Maritimes spending a day in Peggys Cove and a day in Prince Edward Island. Then we drove 3 days to Mont Tremblant Quebec with a 4 hour visit to the city of Quebec in the province of Quebec.
After a 5 day convention in Mont Tremblant, we toured Montreal for 3 days visiting with an old home town friend of Rob's.
Then back into the US, to Rochester NY and from there, a day trip to Niagra Falls, Niagra on the lake and St Catherines before being hastled at the border by a border guard not quite understanding that our RV was in the US and we were going back to it.
Then we drove 2 days to get to Chicago where we currently have spent 2 days touring, seeing the Blues Brothers filming locations and Al Capone historical stuff. Tomorrow some Route 66 things around here, and then we start our 7 day trip back towards Edmonton with a 2 day stop in Unity Saskatchewan and a day or two in Calgary to visit Grammy and some relatives there. It's May 22 as I write this… we'll update the blog as soon as we get some time off from actually looking at stuff and photographing it)