This morning we took our time getting up and doing some email, as we had to stick around until 10am to get propane.  The little space heater did the job nicely last night and we were quite toasty warm, but we still need propane to cook.
This park doesn't offer delivery of the gas to your site, and we learned the most of the full timers or experienced RVers have an extra smaller tank they take up to get filled so they don't have to break down camp and bring their whole rig.  Unfortunately that was NOT the case for us!   We did have to break it all down, unplug all the hook-ups, put away stuff that was on counters, etc and go to the front gate where the big tank is, and get in line to get gas.  We were the only RV in line.
The guys filling the tanks were very nice and gave us some tips on things.  He was surprised that I was concerned about adding extra weight to the rig. He said most of the women don't seem to take notice of weight issues.   Well, I'M different!
Oh yeah, it was also pouring rain by the time we got filled up.  Remember, we are in the desert, and it's quite unusual here to get any rain, never mind a downpour.   I think one guy said it was the second time it has rained since October.
Back on the road by 11am, we stopped at the little café in Death Valley Junction again to get hot drinks and use the bathrooms.  We're getting to know the waitress there, Lisa and said we'd be back for dinner too.
Our first stop inside the Death Valley park was to climb up the winding road, with a 15% grade at the top, to Dante's viewpoint.   It was well worth it for the view, but it was hailing a little and very windy at the top so we didn't stay long.  The height of the viewpoint was over 5600 feet, down to the floor of the valley to Bad Water (-284 feet) – is apparently 3 times the depth of the Grand Canyon.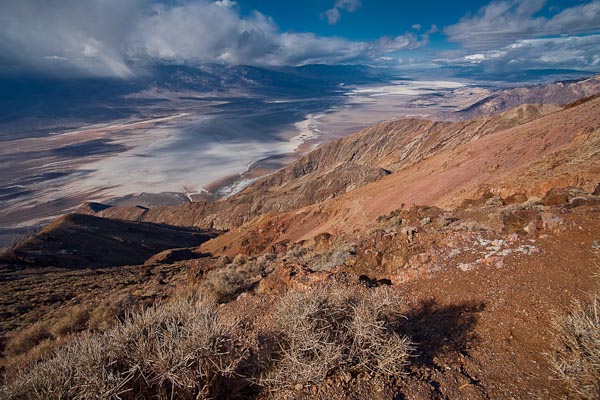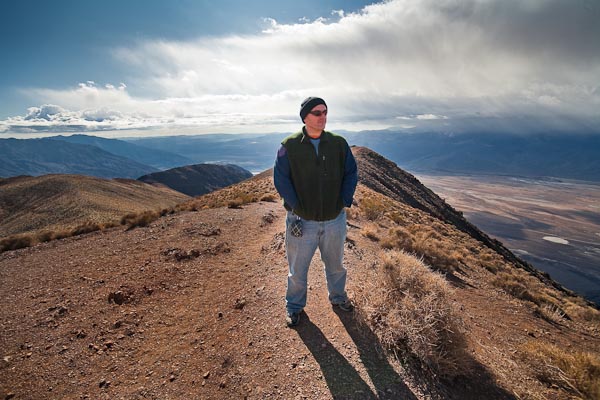 The day before the ranger had recommended if we were going to the ghost town that we also stop in Beatty to get gas, as it is much cheaper there than in the park.  It was 3 cents less than in Pahrump there so we didn't think much of it at the time.  Today we needed to just get a little gas to make sure we'd get back to Pahrump (there is nothing, and I mean NOTHING in between the two places) so we paid $3.96 a gallon, a full $1.31/gallon more than in town!   Holy crap!   We only got two gallons and paid almost $3 more.
Next stop was to be the Artist's Pallet drive, but Dar opted to go to the farthest point on our list today and work our way back – so straight to the Bad Water we headed.  We could see the rain and bad weather coming across the valley towards us. So in a place that only gets 2 inches of rain a year, sometimes none – we had to be there on a day it was raining, go figure.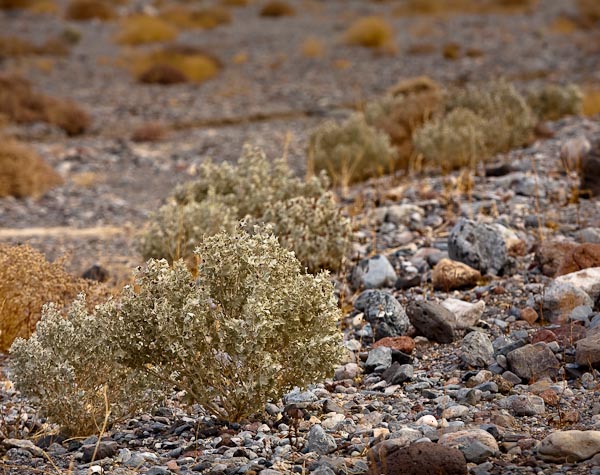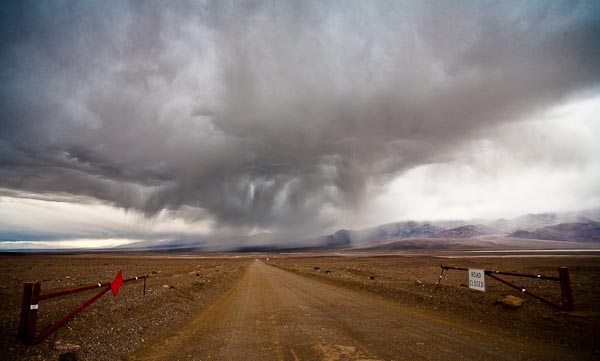 This is where Rob and Dar seem to have differing opinions and experiences.  Rob was excited to be part of a noteworthy event like rain in the driest place in North America.  Dar, who wanted to take photos, did not see the opportunity and did not share in his jubilation.   By the time we got to Bad Water (the lowest point in the valley, 282 feet below sea level) it was blowing and raining.  It wasn't what Dar expected and she was not the least inspired to take any photos there, other than a few just to document we were there.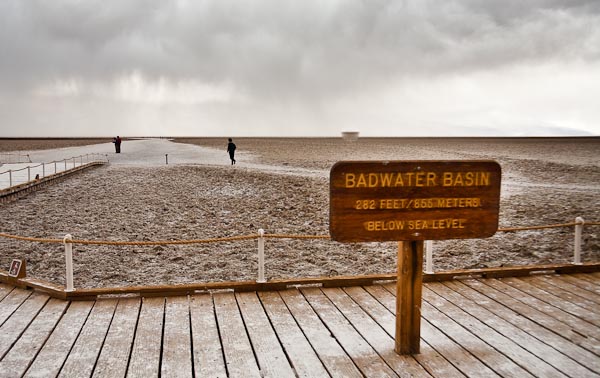 salt flats, 282 feet below sea level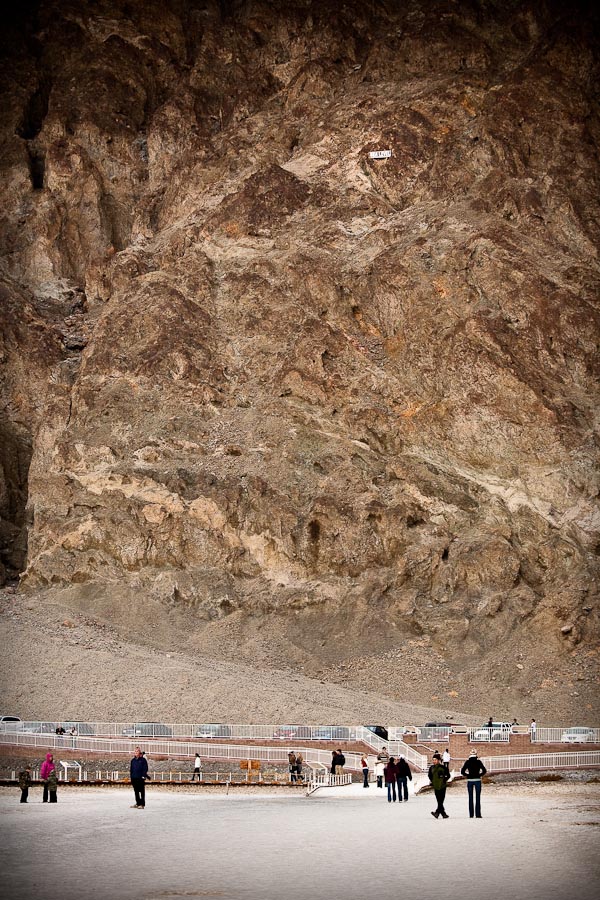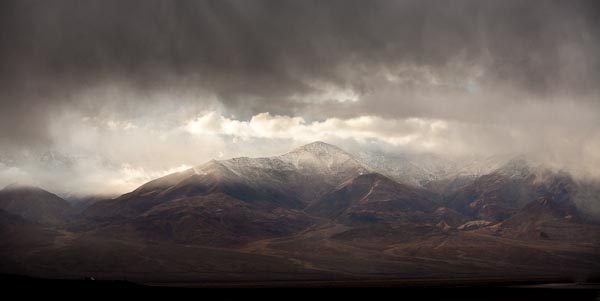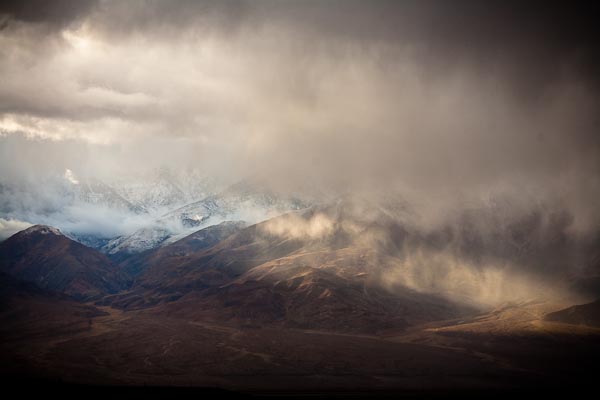 Dar was expected miles upon miles of dried cracked earth and salt flats, what we saw looked like a plowed mud field with a dusting of snow on top (which was actually salt).   So, Rob got to choose the next activity, which would likely be our last before sunset.  He chose to go the Natural Bridge.
Getting there took almost as long on the road out there, as the hike up to it did.  The road had more holes and ruts than I could count and if you wanted a vibrating massage you were in luck.  Don't drink anything before venturing down it as you'll end up with a slightly shaken smoothie by the end.
The hike in to the bridge was a wide gravel path, all uphill, about a mile or so.  We got to it and weren't sure that was it, so we kept going a ways more.  Alas though, the one arch across the canyon was the landmark we were seeking.  It wasn't what we expected either, seemed less grand than we'd hoped maybe.  But we did get a couple minutes right at the site with no other people there, and did our own self-portrait and had time there alone.  Not a minute after we starting walking down again, did people appear from both directions.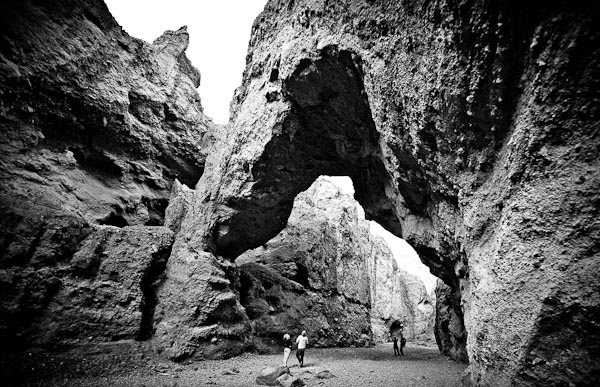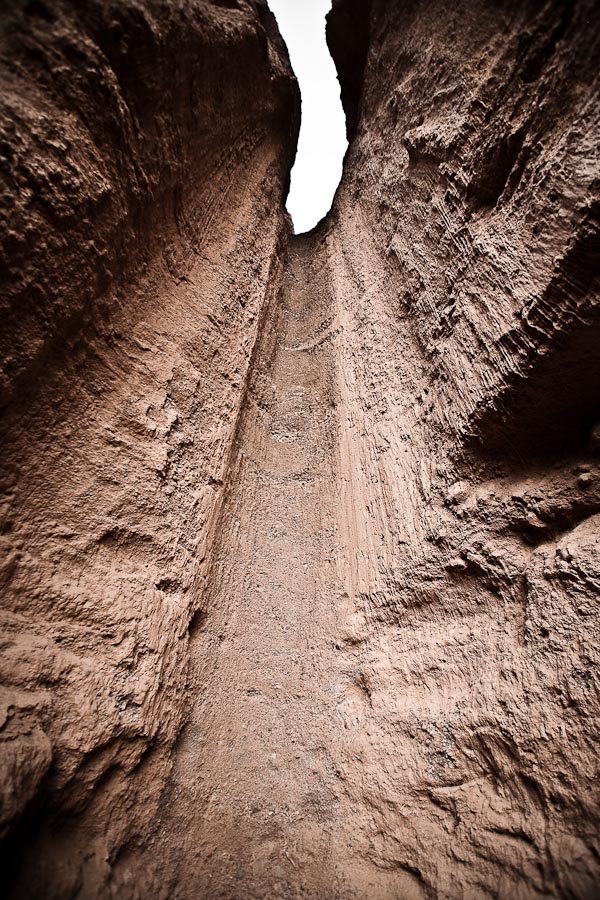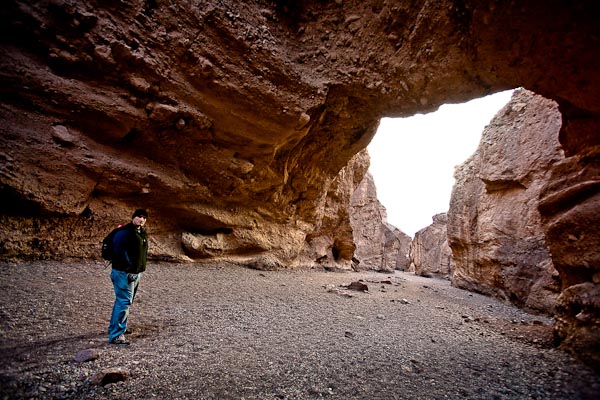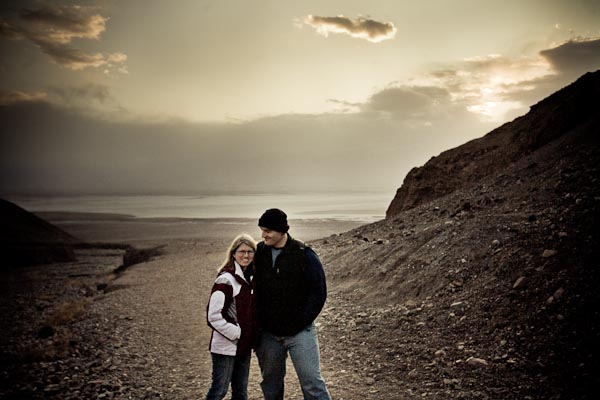 As we returned from the bumpy road back to the main one, Dar spotted more salt flats off to the left side.  She requested a stop and hopped out, almost to be blown away.  The winds have significantly picked up to what could be called strong gusts.  She finally got a few quick shots of the cracked dirt she was seeking, and just prior to her taking off in the wind, or her fingertips freezing off – she bolted back to the car.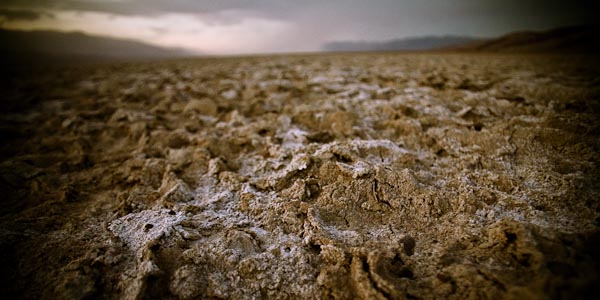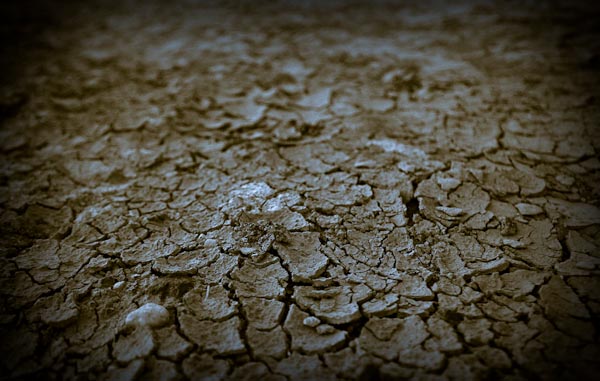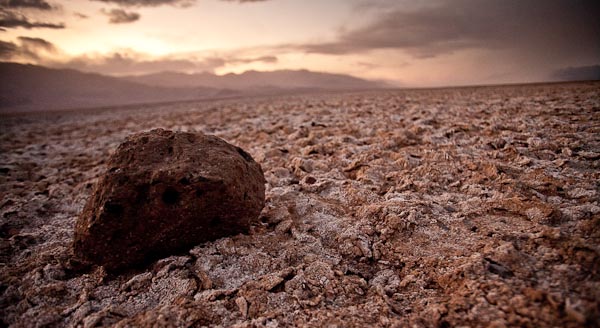 As promised we made our way back to the café at Death Valley Junction.  We had her special and mostly just wanted to talk and meet people.  We learned more about Marta, and ended up buying the little booklet of her story, which was quite fascinating to us.  We were sitting there reading the whole thing, so we thought for $10 we could support her, the community and the staff there.  Dinner with the booklet was all of $39 including tax and tip.
3 minutes down the road after we'd left, Dar thought out loud "I should have taken her photo", so we turned around and went back and did just that.  We want to document the people we meet along the way, so might as well start here.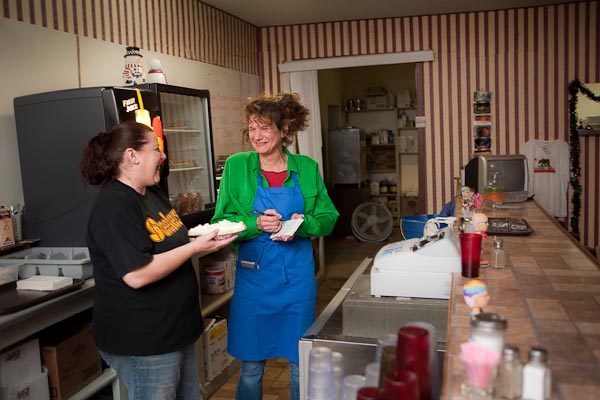 Return drive was uneventful except for the wicked wind.  We had to finish setting up the RV for the night, as we'd left in a hurry before without redoing the leveling, water, etc.  Got that all done, Rob started on the blog installation and Dar was writing the text.
*** Things seen today:  two humming birds right at camp, a sign that said "radiator water 1 mile", rain, hail and sunshine (all within 60 miles of each other in 8 hours) and several people who are missing teeth.
Lessons learned:
how much our propane tanks holds and weighs, 15 gallons, 120 lbs full
that most other RVers have smaller tanks and just bring those over to get filled
that some RV parks bring the gas to you, and we'll be looking for those ones in future
that when we think we're almost out of gas, get some more
Rob learned where the empty line is on the tank
Images in this post are available for purchase on the Her View Photography online gallery at Zenfolio.com.