So, I've been to Texas only once before and that was Austin.  Which, I've learned really isn't at all like the rest of Texas – now I know why.  Austin is like Edmonton actually, no one is from Texas there, and no one speaks with an accent.
Things Are Different In Texas
Once we crossed over into Texas (the real Texas) we started noticing little things that were different like road signs, ads on TV, etc.  Guns are a big thing down here.  Everyone's got some and they know how to use them – at least if they take all the shooting classes available on TV they certainly do.  There's also a lot of border patrol going on to make sure no illegal immigrants are getting through from the Mexican side.  They also display their state flag and the Lone Star everywhere!  More state loyalty than I've seen anywhere else.  Rob wrote a little travel though on Texans being VERY serious about being Texan.
Here's a few examples of road signs and Texas patriotism.   Notice the "no guns" sign on the bridge".
I had researched a few RV parks in San Antonio and because we pushed extra hard yesterday I was looking forward to an extra day before I went to my Photoshop seminar  in the city.  I had planned on using it to catch up on my homework for my Editorial class and some blog photos.  NOT!
I use a site that has reviews from people who've actually stayed there to help pick which parks we stay in.  I didn't find Hidden Valley RV Park as an oversight because it isn't actually listed in San Antonio, it's in Von Ormy out in the southwest countryside of the city and I didn't think to look for it there.  So I used my gut and booked it on the phone.  Their web site talks about the creek, rustic location, birds, in amongst the trees, etc.  Sounded really quiet and quaint.
Hidden Valley RV Park in San Antonio
We arrived about 6pm and another RV had just pulled in before us.  We should have taken a clue about the state of the "park" by the fact the check in area is a little 3 walled shack outside the lady's house.  She had given the other guy his choice of two stalls so we had to take whichever he didn't use which was likely a back-in stall.  We prefer pull through as you just drive in and leave the car dolly attached at the back.  Back in is more work unhooking everything.
She didn't take visa so I wrote her a check, which she wasn't sure her bank could cash as it's a Canadian one.  Then we drove down the hill (which is quite steep and is a dirt road of partly mud and clay).  It was raining a little bit so we wanted to get set up and have dinner as quickly as possible.  The other guy had attempted to get into the pull through, which required entering the RV area (which is really a big open dirt field) and coming around from the back side.  Only he went the wrong way around and ended up getting his rig stuck in the mud.  We took the back-in stall.
We watched the drama unfold as we hooked up
They had to bring a small tractor down to pull the RV out of the muck.  The tractor stopped at one point, the RV didn't and CRUNCH!   Ouch – we later ran into the same couple in town and found out they had over $3500 worth of damages on the back of their RV.
Rob's comment: I learned from growing up in Saskatchewan, that when pulling a vehicle out, the vehicle being towed has to ride the break actually and be the one stopping the motion when finally pulled out.  What we saw happen in front of us was classic "how not to tow a vehicle out of the mud"
After we got set up we tried to get internet, no luck.  Teri, the park owner, said the router was 3 trailers over so maybe the ones in between were blocking the signal to us.  We decided that if they other guy left in the morning, we'd move over and take the pull-through to have clearer internet access.  We'd avoid the mud and go round the other way.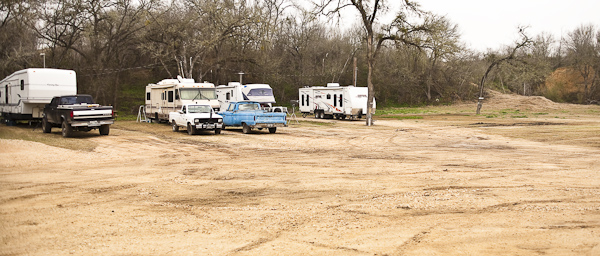 In the morning Rob talked to another couple that were bugging out entirely.  Apparently some heavy rain was coming and they didn't want to get stuck there, not being able to get up that slippery hill.  Good point!  We had also learned that there were no bathrooms or showers here at all.  One thing I hadn't thought to ask for, as every park at least has them – what state they're in is another thing – but no park we've stayed in so far has not had bathrooms.
So the combination of rain coming, possibility of getting stuck, iffy internet at best, and no showers prompted us to make the same decision.  I called our second choice and they had a spot for us so we pulled anchor.
We ended up having to pay her cash (gave her $20 instead of the $14 we actually owed) because she said she couldn't cash our check.  We explained why we were leaving and thanked her.
Truth be told, Hidden Valley RV Park is not that bad of a place IF – and I say IF – it is not raining!   If you want rustic, you're literally in the forest.  If you want quiet, you're certainly away from it all.  Yes it's only a 25 minute drive right to the downtown area.  The lady was super nice and we felt bad but as we are still relative RV newbies, we didn't want to take a chance getting flooded out in the valley there, or stuck trying to get out once the water came.
Trepidatiously, we headed for Braunig Lake RV Park, crossing our fingers.  Unfortunately we don't have any photos of that park but it was much drier and solid internet and showers!  We were very happy with our move.  It's a damn good thing we arrived a day early, otherwise we'd not have had time for moving – or Rob would have been doing it by himself while I was in class.
Photoshop Workshop With Ben Willmore
The class I attended on February 2nd was a Photoshop class by Ben Willmore.  Ben travels around in an RV  as well, photographs, and lectures.  I talked to him about RVing and got a photo of us together.  No this is NOT his RV.  You can see Ben's travels and photography at www.whereisben.com.  He was very inspirational and I got lots of good tips and ideas.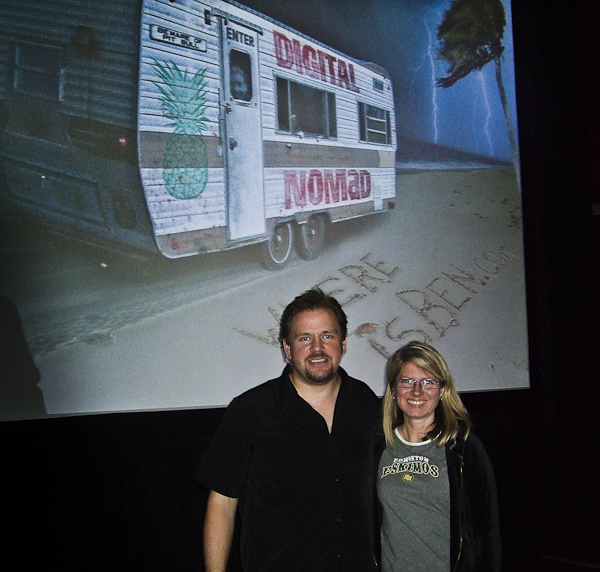 Things To Do in San Antonio
Over the week we stayed in San Antonio, we spent a day visiting The Alamo and then discovered the Riverwalk. We ran out of light the first day after taking the riverwalk boat ride, so we went back a second time to walk it and get more photographs.