As agreed, I was to accompany Dar to a photo exhibit of John Gutmann's work at the Center for Creative Photography, as she had visited Biosphere 2 with me a day earlier. After seeing Gutmann's fine work, we were going to split up. I dropped her off at the Tucson Museum of Art, where an Ansel Adams exhibit was showing, while I drove the 30 miles south to Sahuarita, Arizona to experience the Titan Missile Museum. First however, the Hotel Congress in downtown Tucson, awaited our arrival.
Hotel Congress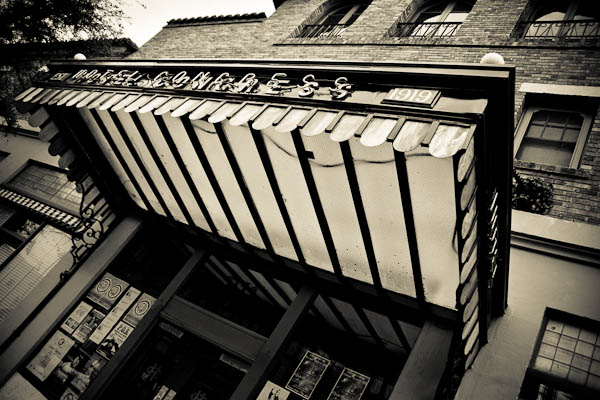 I'd been to the Hotel Congress once before, but hadn't truly appreciated its place in US history.
Located in downtown Tucson at the corner where Congress Street, Toole Avenue and Fourth Avenue all converge, Hotel Congress was built in 1919 and is located directly across from the former Tucson train station. Club Congress, a venue in the hotel, started in 1985 as a place for local artists to showcase their art and today has been dubbed "One of the ten best rock clubs in the United States". I vaguely recall having a drink in the adjoining "Tap Room" when I first visited the hotel back in 2006.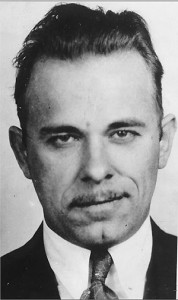 Dillinger
It was January 22, 1934 when the Hotel Congress entered the history books after a fire led to the capture of John Dillinger and gang. Dillinger used Tucson, and the hotel, to lay low for awhile after a robbery in a nearby town, but a fire forced them out of their third story rooms via an outside ladder. Firemen were offered $50 to retrieve the "well dressed easterners" suitcases, which were later found to contain more than $23,000 in cash. The fireman recognized the men from a True Detective magazine and notified authorities. Within 5 hours, they were captured by the local authorities without firing a single shot. All Dillinger had to say was "I'll be damned!"
Hotel Congress is home to a very neat little coffee bar called The Cup, featuring some great home made pies (huge home made pies actually) and a very unique floor. In keeping with the theme of the Copper Hall dining room, The Cup coffee bar's floor is made up of thousands of copper pennies. A new addition to the hotel only recently, off the coffee bar entrance towards the former train station (now Maynard's Market) is a huge outdoor patio.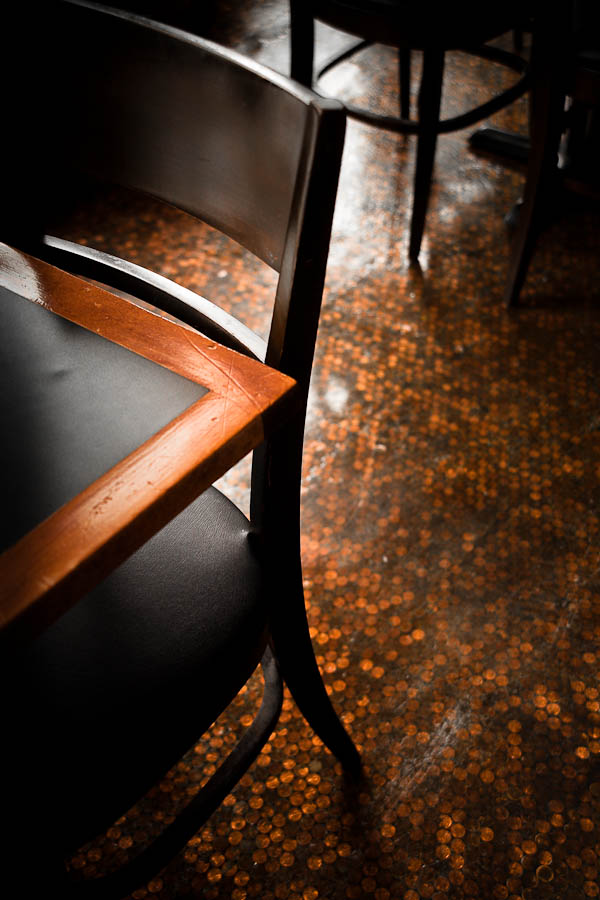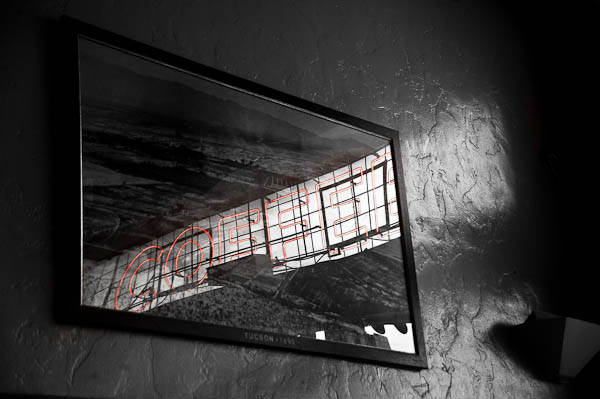 As Dar took photos in The Cup coffee shop, one fellow left the room and headed out to the patio. A few minutes later, after visiting the restroom facilities (a throwback to 1919), we went outside and Dar continued to photograph. The same fellow from before, now got up and took his coffee back inside. I guess he simply didn't want to be in the background of any photos.
A-10 Warthogs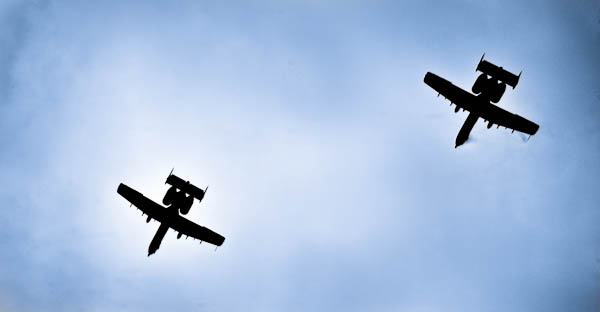 I'm not a fan of war at all, but the technology of it all fascinates me. Our first RV park in Great Falls Montana was built on the edge of an Air Force base and we woke to the sounds of F-15's taking off. In Phoenix, we were within 5 miles of Luke Air Force Base where we had groups of five F-15's doing maneuvers all day long from as early as 9 am. I spent one afternoon at the end of the runway watching them take off and land. One day, two Apache helicopters flew directly over my head while in the RV park and here in Tucson, it was to be A-10 Warthogs. They seemed to be taking off and landing in a constant stream overhead. It was brilliant to see. At one point, I'm sure I saw a Hercules overhead as well. Amazing machines.
Center for Creative Photography
It was a short drive from downtown Tucson to the University of Arizona campus where the Center for Creative Photography is located. It began in 1975, and with a budget of only $75,000, purchased the archives of Ansel Adams, Wynn Bullock, Harry Callahan, Aaron Siskind, and Frederick Sommer. It's quickly been expanded to include more, but on this day, we were here to see the exhibit of John Gutmann.
John Gutmann Photographer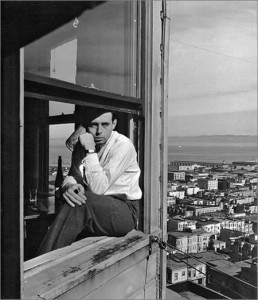 Gutmann was born in Germany and became a talented painter, exhibiting his work around Germany in the late 1920's and early 30's. He moved to Berlin, continued to paint and began teaching art. In 1933, he purchased his first camera and then fled Nazi Germany for the US. Within his first few months of owning a camera, he signed a contract as photojournalist with Presse-Foto, Berlin because they were looking for photos of American life.
His first base of operations was San Francisco where he joined a camera club in order to use their darkroom facilities and to meet other photographers. He began traveling through the US shooting depression era United States and attempting to sell them to magazines in Europe with little, but some luck. From what I remember from details at the exhibit, German magazines did not expect Americans to be enjoying themselves so much during the depression and Gutmann's photos were not depicting the Americas the way they wanted to spin their stories.
It was interesting to see such great photography from the era and I thoroughly enjoyed myself. Not knowing at the time that Ansel Adams had his archives located here, we heard there was some of his photos on display as well, on the second floor. We went up stairs to find a total of nine portrait photos. That was it. Short and sweet. We found out later than we could ask to see more if we wanted, but they would have to get them out and bring them to a viewing area for us.
Since his passing in 1998, John Gutmann's archives are kept at the Center for Creative Photography along with many others since its original five. Please visit John Gutmann's Official Website for an example of the photos we saw in the exhibit. For a complete understanding of the Center for Creative Photography, visit their website.
Before going our separate ways for the day, we decided on sushi for lunch. We had heard of a place called On A Roll Sushi just 2 blocks down the street from Hotel Congress and Dar really loves sushi, so we went back.  Dar has said on many occasions that if she were only allowed to eat one food for the remainder of her life, it would be sushi.
On A Roll Sushi was awesome. It was very quiet inside because we got there just past 1:00 so got very quick service. The portions were very large and the prices very low. An odd combination, but we were pleased.
As we sat enjoying our lunch, we noticed a "Guide to Tucson" in the front entrance way. I grabbed it and leafed through. On the back cover was an ad for The Grill at Hacienda Del Sol Guest Ranch Resort where they were advertising Free Wine Tastings and Jazz Piano. "Fantastic" we thought and agreed that if we had time tonight, we might pop in for some wine. Tastings were clearly labeled as taking place from 5:30 to 7:00 pm.
We're finding local city guides very useful. We learn about places and history that we'd not have known about otherwise. I tend to Google things myself, but do so after the fact. Dar likes the guides and leafs through them before we go. I think her approach is better suited to our discovery process. However, I find out much more about the places we've been after we go too. Both have their benefits. One clear benefit is the listing of current events and coupons for said events. We've saved a ton of money by using coupons and linked offers (ie: come to our exhibit and save $2 on a neighbor exhibit or food).
We split up after lunch and I dropped Dar off at the Tucson Museum of Art before going my own way.
Tucson Museum of Art
The Museum of Art is also located downtown Tucson, something I've come to appreciate about the city. It's kind of like being in Saskatoon Saskatchewan, or an even smaller city. An Ansel Adams exhibit was on display and Dar's reason for going. She spent hours walking around and looking at his work as well as sitting in on 15 minutes worth of an Ansel Adams documentary before heading out and a few blocks over to the Old Town Artisans village where I met her after my trip south to the Titan Missile Museum.
Visit their website to learn more about the Tucson Museum of Art.
Titan Missile Museum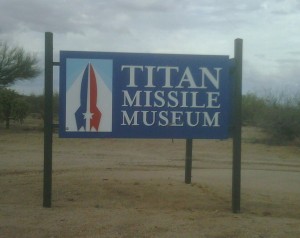 Yesterday we drove 30 minutes north to the Biosphere 2 and today I was to go 30 minutes south to Sahuarita, Arizona. The Titan Missile Museum is located just off the I-19 that heads towards Nogales, the town on the Arizona / Mexico border. So far, at 43 miles, this is closest I have been to Mexico on this trip, but not in our RV.
(Photo Disclaimer: The Missile Museum photos are all taken on my Blackberry Bold 9000 2 Megapixel camera. I do what I can with 2 MP lol.)
As I turned off the highway, I drove past a Safeway on my left to the museum entrance. When it was built, the Missile silo was one of three in the area, and was in the middle of nowhere. There was nothing to show for it except for the 700+ ton door laid on top (I'm looking for the correct figure. If you know, please leave a comment.)
The "Top to Bottom Tour" is a 4.5 hour tour limited to 6 people, and done by reservation only. It's on specific days and runs from 8:30 am till 1 pm and costs $70. They take you everywhere in the place including the sleeping quarters and directly beneath the missile. I had not booked a reservation and wasn't wanting to spend the $70, so I opted for the one hour tour for $9.50.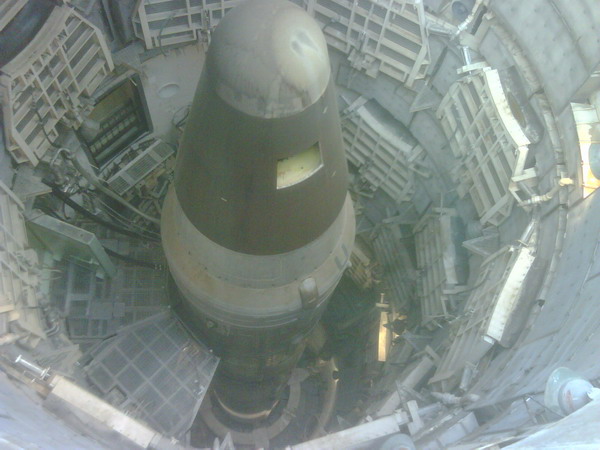 The silo doors were fixed in place half open with the other half covered by glass that you could look down through. We entered the facility, descended the 55 stairs, through the security doors and were shown exactly what type of security the facility had when it was in operation. We entered the control center, where two operators of the four man team ran the controls and learned that certain areas of the facility were not to be entered without your "security buddy". They were paranoid about everyone and everything. Nobody was to be alone in certain areas so that a rogue member couldn't do any damage or sabotage the missile.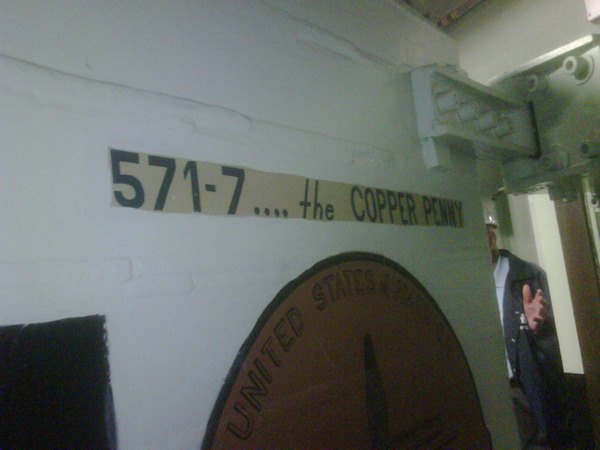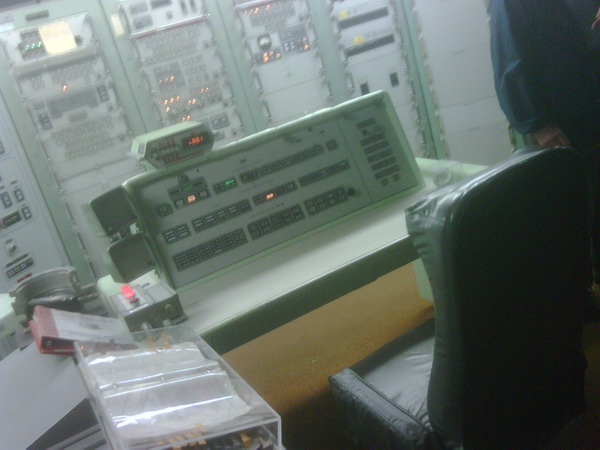 The missile itself was kept in a refrigerator at 60F for its entire history at the location. Higher or lower temperatures could cause problems or cause an explosion of its liquid fuels.
We walked a long tunnel towards the missile silo. The walkway was suspended within the tunnel and designed to move both up / down and back and forth in case of a direct hit by enemy forces. The guts of the whole place was mounted on springs and would barely move if the earth around it did. No longer refrigerated, the door to the missile silo was open and while we couldn't go out onto the "things", we could look through it.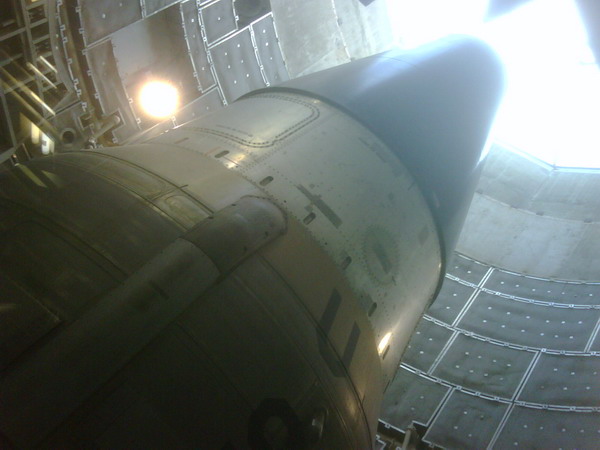 For nine and a half dollars, the hour long tour of the facility was fantastic.  I highly recommend it if you're interested or in the area and see their website for more info.
Quite fascinating.
I drove back to Tucson to meet Dar. She had texted me that she was at the …
Old Town Artisans
Located in the El Presidio Historic District  of Tucson, is a little 150 year old building with shops and galleries in it. Dar found me outside in the courtyard and then brought me back inside one of the shops. As we moved through the shop to the back, we entered out into another shop. Various art, sculpture, jewelry and the like were in the buildings. At one point I realized we had entered four shops, but had not left the building. I asked one shopkeeper who directed me to the next shop over as the owner had been there the longest, 21 years.
El Presidio San Augustin del Tucson
We learned that the building we were in was actually the stables area of a fort built in 1775 to stake claim to the northern frontier of New Spain. The north wall of the Artisans shops is the location of the fort's north wall from which Apache attacks were repelled.
Later, in 1888, the actual shop we were standing in, learning about its history, was used as a distillery.
We walked out and across the street to where the fort was but even though we were not able to enter, the building offered many great shots from the outside.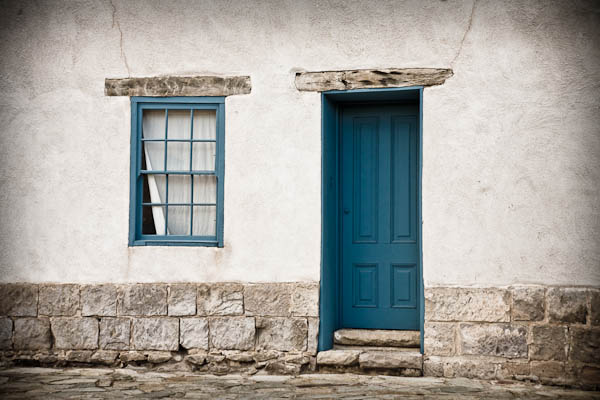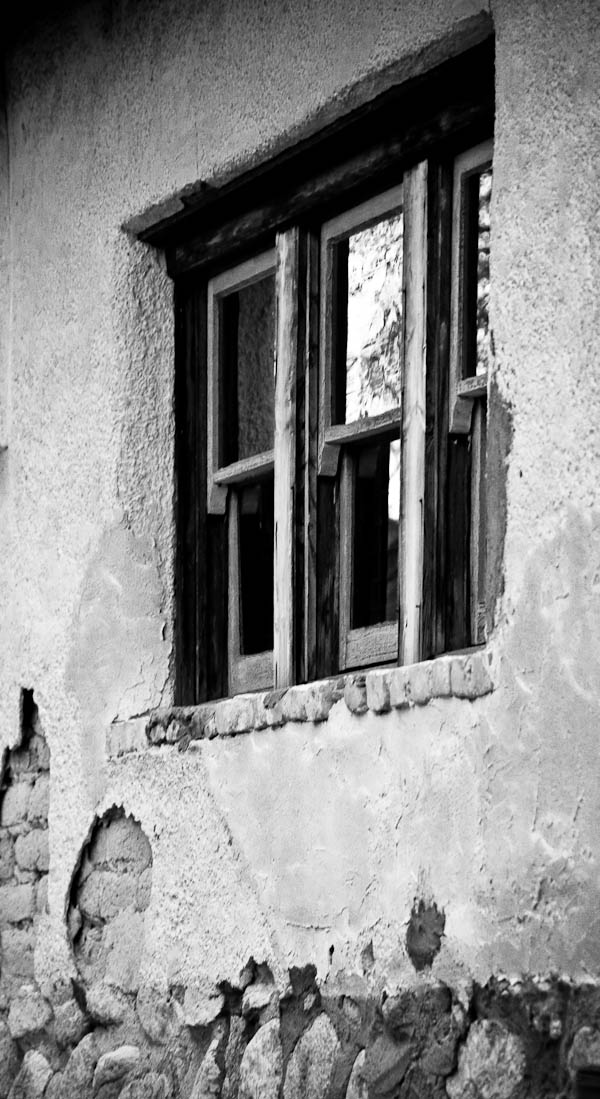 Another short walk south of the Artisans and we ended up at the Pima Consolidated Justice Courts building, a beautiful building itself.
It was just after 5 PM and we remembered the wine tasting at the Hacienda Del Sol from the Tucson magazine we had read. We bolted for the car.
Hacienda Del Sol
We drove through a beautiful part of upper Tucson, through what looked like wine country and multi million dollar homes. Up a short road to a wonderful piece of property, a valet met us in the parking lot. We chose to self park.
A valet! Wow, where were we?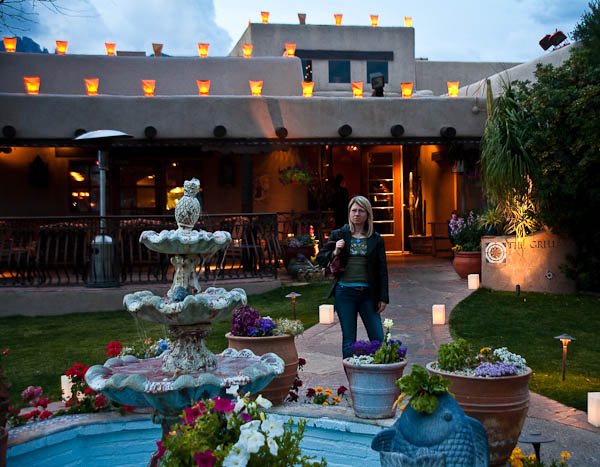 We walked over and asked about the wine tasting. He directed us inside as they'd know more about it. Passing a fountain, and a pool down overlooking Tucson in the distance, we entered The Grill.
"Yes, we have tastings every Tuesday night from 5:30 till 7:00"
Great I thought
"Where do we start?"
"It's Wednesday" she said, "the wine tasting was yesterday!"
Oh…. That's the part I missed from the magazine. Tastings are on Tuesdays.
Darlene here: I thought afterward that I had read that it was on Tuesday, but just didn't realize what day it was any more.  I thought that it was indeed Tuesday.  We do that more and more on this trip.

From the Hacienda Del Sol website:
A Tucson Landmark Since 1929

In 1929, John and Helen Murphey created Hacienda Del Sol, a desert retreat and "home away from home" ranch school for girls. The prestigious school's roster boasted some of the country's most elite families: Vanderbilt, Pillsbury, Maxwell, Westinghouse, and Campbell, to name a few. In 1948, Hacienda Del Sol was converted into a guest ranch that immediately attracted the Silver Screen's most notable stars, among them John Wayne and Clark Gable. Legend has it that Hacienda's Casita Grande was the favorite hideaway of Spencer Tracy and Katharine Hepburn.
Awards
Voted Top 30 Favorite Inns of the U.S., Travel and Leisure
One of the West's Best Inns, Sunset Magazine
An amazing place to say the least. We looked around and took photos. I imagined how I would incorporate most of the layout of the Hacienda Del Sol into the plans for the home Dar and I would one day build in Canada's wine country, the Okanagan.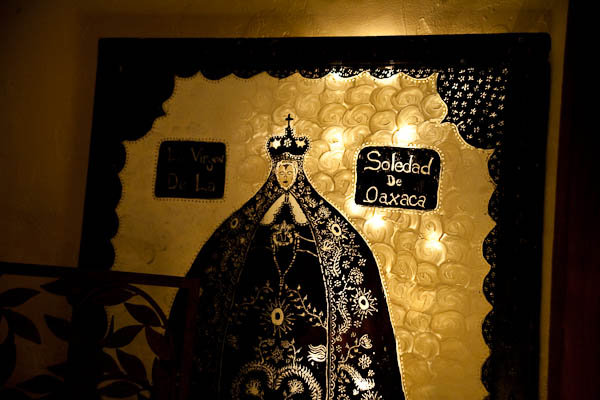 The Grill restaurant was built a little over 10 years ago and has won Wine Spectator's "Best of" Award of Excellence every year since. We decided to skip our return to Fourth Avenue and instead have a glass of wine and an appetizer.
We were waited on by no less than five people, one of which was a young man named Sirius whom I got into a discussion with about the significance of his name and how it related to the pyramids and The Sphinx. We were even asked if we preferred lemon, lime or cucumber in our water.
Seriously under dressed, we kept our coats on to cover our t-shirts, but enjoyed the food and service. We would return here on our next stay in Tucson for a full meal and an entire bottle of wine. We left the Hacienda and headed back to Whispering Palms RV Park but dreaded another night of trains and little sleep.
Darlene here: Rob fails to mention that two glasses of wine, and two appetizers ran us over $60 with tax and tip!  But the experience was so worth it!
After one evening and two complete days, our adventure in Tucson would be coming to a close. We saw the Biosphere 2, the Desert Museum and the Saguaro National Park. Then the Hotel Congress, some Ansel Adams and John Gutmann photography, the Titan Missile Museum and then had the fantastic accident of visiting the Hacienda Del Sol. Words fail me in describing how that architecture and property layout will eventually be duplicated in our own home when we build it. One more night of a constant barrage of train whistles next to our RV park and then we're off to Tombstone!
Images in this post are available for purchase on the Her View Photography online gallery at Zenfolio.com.