Drive time today was short and sweet.  Left Mesquite without paying (because their system was dumb says Dar, no one in the office and to pay by visa required searching the grounds of their closed hotel/resort to find the open office of the casino) and drove the 2.5 hours to Pahrump, home of Art Bell.  We stopped in Vegas to visit the Whole Foods Market and had lunch before continuing up one of the longest and steepest hills Rob has seen so far.  He said that the engine temperature reached the hottest he'd ever seen it.  What goes up must come down as the saying goes, and it was true here as well.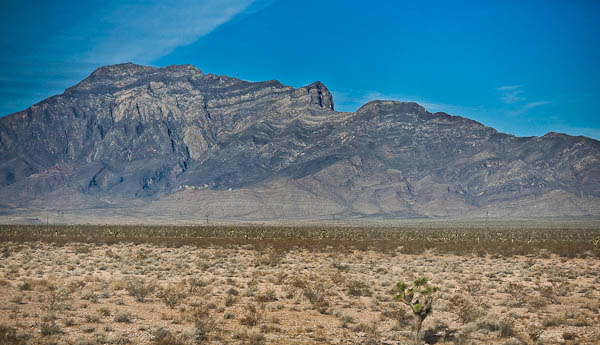 When driving up hills of this grade, an RV of this weight slows down considerably, not to mention pulling a car as well.   Even with the engine gearing down, speeds still slow down to 60 km/h and lower.  Once reaching the top and heading back down the other side, it's important to disengage the overdrive and keep the vehicle below 80 km/h.  This is best done by using the engine to slow it down, and using the brakes as little as possible.
We had NO pre-arranged plans in Pahrump, so flying by the seat of our pants, found an RV park called Preferred RV Resort right behind Terribles Casino.  Very nice place actually.  Fully fenced and secured boasting 3 Laundromats, a pool, hot tub and the cheapest propane in the city!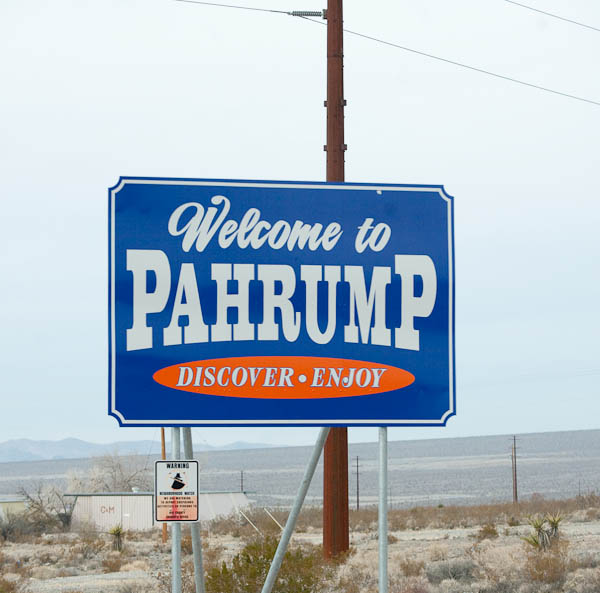 Speaking of propane, we decide to take stock of our resources.
As it turns out, our propane tank was sitting at about 1/8th full.  Just enough to get through the night, and hopefully (for Rob's sake) a 2nd night as propane fills are limited to Tuesdays and Thursdays for one hour on each of those days.
We found that our black water tanks were full too and needed emptying.
Alas, our sewer hose was too short to reach the hookup.  We needed to make a trip to an RV supply store or find another place.
We left the cats alone and took off in search of a propane station that had booster tanks (kind of like a Jerry can for propane) and a new sewer hose.
After getting directions and then driving around "most" of Pahrump to talk to various service stations that had propane, survey results showed that they had no idea what a propane booster tank was.  Any taxi driver who drove in the 80's and 90's knows what I'm talking about, but here in Pahrump…. Nada.
So, we headed to our RV supply store for the next items on our list.
Closed.  (it is Sunday after all)
Obviously, the next logical stop was the local winery for a tasting.
Nevada Wine
The Pahrump Valley Winery located just off the freeway on Winery road, of course, (at the intersection with Rainbow road), boasts a wonderful variety of flavors.  Only 2 are made with grapes grown locally while the rest are made with grapes grown in California.
After tasting, and buying 2 bottles of their Burgundy, one of their Symphony and some mulled wine spices, we headed for Walmart.
Walmart in this town, or so we're told, has a large supply of RV accessories.  We found a 20' sewer hose we were looking for decided to leave.  Before doing so, Dar found a compact RV type vacuum she liked and so for $35 we bought it too.
Supper was next on the list and after stopping to look at the Chinese Buffet with the "Make it yourself stir fry station" at the Terrible Casino, we opted for another location.
Mexican again it was, el Cancun.
Dar loves Mexican food as it's a great vegetarian option.  She was really low blood sugar and would agree to anything at this point, but Rob made a decision and Mexican it was.
Turns out that it was a wonderful place and the food was great.  Rob noted that the bathrooms were the cleanest he'd seen in the US so far, and that's GOT to be good.
Food was fantastic.  Highly recommend them.
Upon returning to the house, laundry and sewage was first on the list.
Well, remember the cats that had been locked up all day?
Someone, and it wasn't Rob, had closed both doors to the bathroom where the cat litter box was.  Dar wondered "do you think they may have peed somewhere in the RV again?" (just for the record Dar says, "technically they aren't my cats so ROB needs to make sure they're taken care of)
Rob began work on the sewage system and the emptying of the tanks while Dar got started on the laundry.
After throwing in a load of laundry and emptying the tanks of human waste, we settled in for the night.
We decided to conserve fuel and not run the propane heating system until we headed for bed, so even though we were in the desert, temps began to fall.  Dar decided to layer her clothing.
"Why are my clothes wet?"
Oh ya, the cats, locked out of their cat litter box.  Not their fault this time.
Back to the laundry again.
***Things we saw:  tumbleweeds, a license plate that said "WAY HOT" and clothes littering the highway at one point.  An angry spouse perhaps?
Lessons learned:
that there is a fine line between filling up the propane and carrying too much weight, and running it too close to empty.
That the RV park we are staying at only pumps it 2 days a week and only for one hour, and you have to take your RV to the filling station
That Dar gets really cranky when she's cold, and is really tired of dealing with cat urine
That a black cat out at night is hard to find, and she was scared that nothing was the same, sounds, smells, etc.   the flashlight in her face didn't help, only the sound of Rob's voice brought her out of hiding under the RV.