We left Montana, had clear weather most of the way.  Dar slept through the only rough bit where is snowed and was foggy, good timing on her part, Rob was thankful.
We stopped for lunch in Butte, MT at a mall and had Chinese food.  We've decided to eat mostly vegetarian or Oceanarian (only veggies and seafood) while in the US unless we buy the meat ourselves from a local farmer or market and know it's organic with no hormones, antibiotics, etc.
Not much to note, stopped in a little town called Clancy to stretch our legs and take a 10 minute walk.  Things we've noticed along the trail were that we've seen a lot of cattle outdoors actually eating grass, and we're quite happy about that.
Got to Idaho Falls about 7:30pm and picked a stall at Snake River RV ($30/night).  Dar had called ahead and they had lots of spots.  The offices of most parks close at 4pm or 5pm so after that you just self-park and check out and pay in the morning, or put it in a night drop box.  Rob was getting set up and putting the leveling legs down on the RV, Dar was inside setting up.  As the legs for leveling the unit were coming down, they slipped on snow and ice underneath the RV and the rig fell back onto the tires and the legs bent backwards.  Dar screamed and freaked out, thinking they were now broken and we'd be stuck in Idaho for an infinite number of days getting it fixed, need to stay in hotel, etc, etc.   Rob just put the legs back up (they went inside fine) and we slept in the unit on the wheels, just a little wobblier than usual.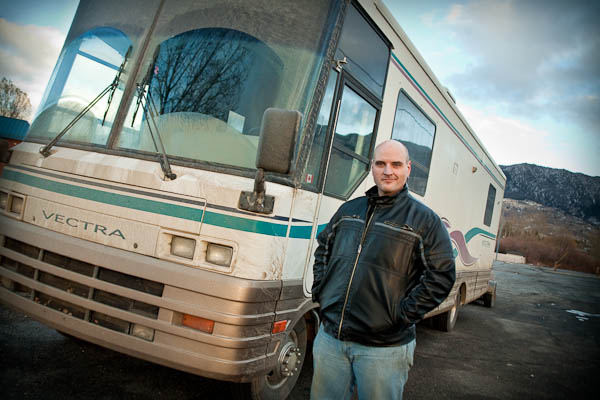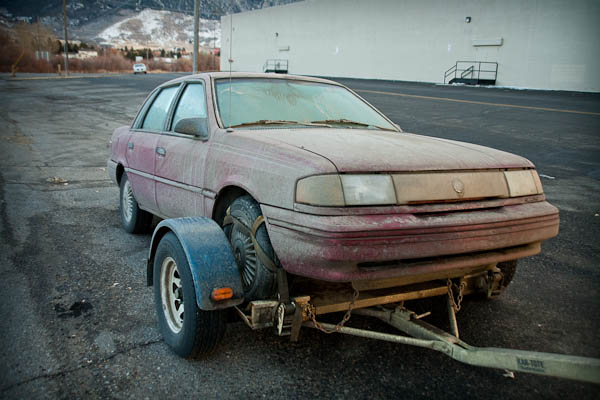 Then Dar was sitting on the couch doing email in her PJs when she discovered her butt and back were all wet.  Cat pee!!!  She had another breakdown, couldn't find any other PJs and went to bed without eating anything.  This is the third incident of cat pee, they also peed on the cat bed we bought for them at home – and the first day when Rob was covered in it.
Lessons, things learned this day:
that the washer fluid for the windshield wipers takes a really long time to get up to the window and it isn't broken
that when putting up the leveling legs you need to start the engine and wait for the rear air suspension to fully inflate, otherwise you end up with the rear legs stuck down.
that when putting the legs down, always check underneath for unlevel surface and ice that may cause a problem, and if in doubt put down the metal plates for them to sit on.
Rob also learned that when you sneeze while driving, the sneeze will not hit the windshield as it is too far away.
Dar is constantly learning that Rob is much calmer at handling any issues that arise and to trust him to do it, and not so quick to jump to the "it's a disaster" conclusion