Got up fairly early and paid for our night at the camp.  Actually pulled out of the park just after 10am, got gas and were on our way.  Getting gas can take up to 20 minutes just to fill the tank of over 280 liters (75 gallons).   Getting into and out of gas stations can be tricky too with the car attached to the back end – we are a long unit with a large turning radius.
After running a couple of tanks of gas through the RV, we had a good benchmark for our initial mileage.  We decided that now would be a good time to move the quantum energy magnets from the toad to the actual RV and test the improvement.  Rob placed the magnets on various parts of the RV engine and drive train under the "hood" and looked forward to the results.
Back onto Interstate 15 (I-15) which pretty much runs from the border all the way to Vegas and on to Los Angeles.
***Things we've seen:  outside Idaho Falls was the potato museum.  Saw potato cookbooks in the RV office too, they grow a lot of them in Idaho apparently.***
Short drive today, we decided to take a break from driving and stop overnight in Salt Lake City (SLC), Utah.  We wanted to get scratching posts for the cats who are starting to claw at the furniture, go to Camping World, and see the Temple.  We found a KOA opened in the middle of the city and got there by about 1:30pm.  Was a little more expensive at $37 a night but had really nice facilities and a big bay car wash so Rob hosed off both vehicles while Dar registered.
Turns out that the KOA campground was a short mile from the temple square, so very easy access to the sights we wanted to see.
After parking and getting anchored we headed off for lunch at a nearby Whole Foods.  We hadn't had much in the way of veggies in 3 days and were craving some good food.  Dar had salmon sushi with brown rice and a spiced pumpkin soup, Rob had a big-ass salad that ended up being $14 (pay by weight).   Dar also had quinoa juice which apparently has the same energy boost abilities as caffeine.  $45 later, and after filling up our big water jug we popped in to Verizon.
We will likely pick up a wireless internet hug in Phoenix once we get there, will cost us about $60 a month, but at many of the RV parks the wifi connection is sketchy at best.   But we got the info and moved on to Camping World.
It wasn't as big as we thought it would be actually.  But they sure have a lot of camping stuff and do dads.  We spent $199 on a BBQ that hooks onto the outside of the RV or sits on a table and taps directly into the onboard liquid propane (LP) gas.  We also purchased outdoor carpet for the step, towel hangers, RV TP, wheel chocks, and a little step ladder for Dar so she can reach the top shelves.   The GPS unit said it would take us over 45 minutes to get there, and they guy that sold it to us said he's never beaten it.  We got there in 25 or less – maybe it was taking into account rush hour traffic at 4:30pm when we headed there?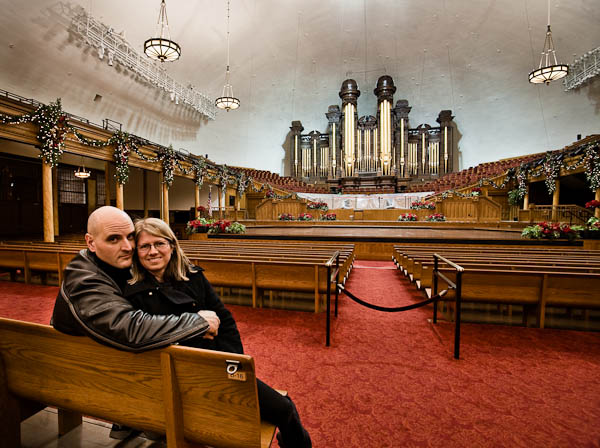 Driving back into the city center, we got to Temple Square and searched for parking.  There were people everywhere – apparently this was the place to be at this time of year.  It was gorgeous with all the xmas lights.  Two missionaries greeted us in the North visitor's center and gave us the low down on events of the evening.  It was a bit disappointing that we couldn't actually go inside the Temple itself (which was built in 1853 and took 40 years to complete) but we did get to go inside the Tabernacle and take some photos there.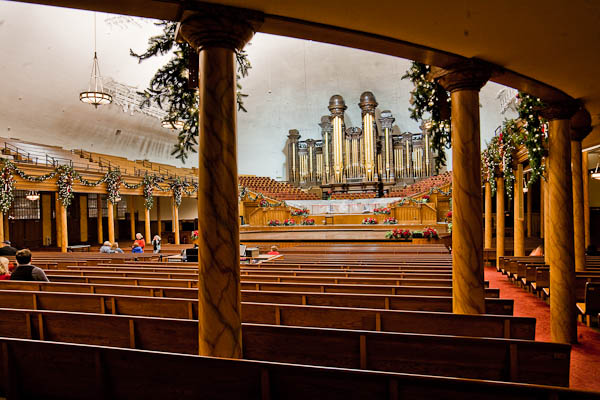 Around the square were horse buggy rides and inside the south visitor center and assembly halls there were high school choirs singing holiday tunes.  Dar met two more missionaries, one from France and one from Uganda.  She recognized the little flags on their name tags and the Ugandan girl was very surprised and impressed.  She talked a little French with the other girl and wished them Joyeux Noel.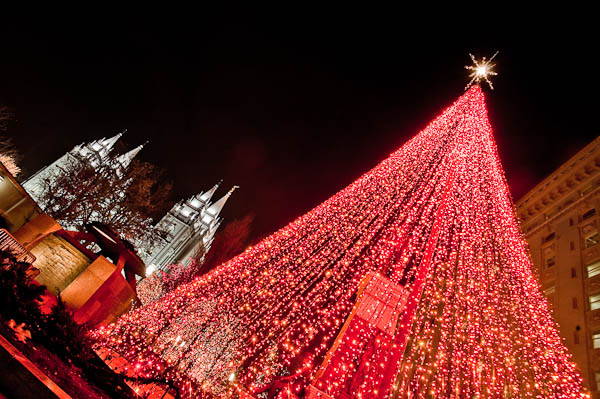 ***Things we've seen/noticed – there is a LOT of Mexican restaurants in SLC!  Like one on every block, just like sushi places in Vancouver.***
Back to the RV about 8pm, Rob went in search of a bottle of wine and dropped Dar off to have a shower.   It was only 42f (about 5c) inside as we hadn't left the furnace on when we went out – note to selves to leave it on low.   Dar cranked it up to 73f and waited for Rob and heat.  After almost an hour and he wasn't back, she was panicking.  He didn't answer his phone, or text or Facebook.  Luckily Melanie was on skype to talk and distract her until he showed up.  Seems there is only one liquor store open in the whole city after 8pm and it was the busiest one he'd ever seen with bottles flying off the shelves faster than staff could put them back.
Crawling into bed and putting on her pajama bottoms, Dar found that yet again they were wet.  Yup, you guessed it –cat pee!   At 1am in the morning, after a long day, one really does NOT want to deal with cat pee in their bed!   You cats, seriously, we need to talk!   They are likely just marking their territory in a new environment – but does it have to be in the bed?!
Lessons learned:
put the furnace on, even on low, before you leave for the day so that when you get back it's not almost freezing in the rig
put the stairs up when you leave so people don't have to flag you down on the interstate to tell you
get something for cats to mark as their own so they aren't doing it on the bed
Images in this post are available for purchase on the Her View Photography online gallery at Zenfolio.com.