Whooping cranes summer in Alberta Canada, just north of where we live, so while we were wintering in Texas in our RV, we thought it appropriate to see where they winter too. We found a Whooping Crane Birding tour in Rockport Texas, so decided to go after our last event in the Seabreeze RV Park Olympic games.
There were so many of them, It was practically a Sandhill crane tour too. These are some sandhill cranes we saw while heading out into the Gulf.
The Wharf Cat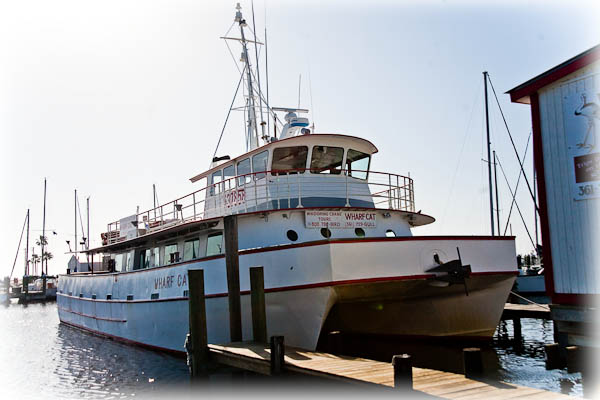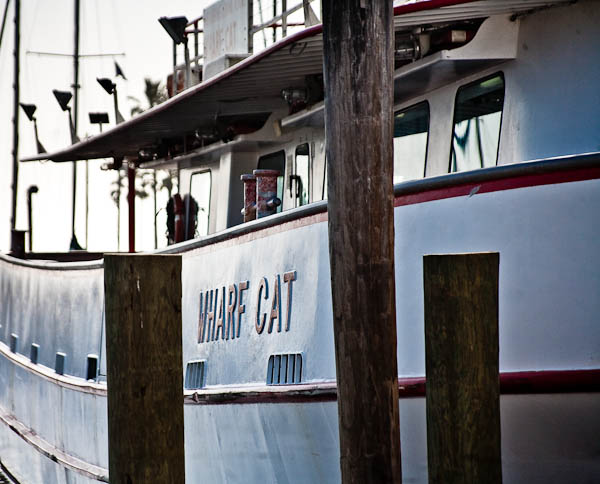 The Wharf Cat and it's sister ship, the Scat Cat are two very large catamaran boats that operate out of Fishermans Wharf in Port Aransas Texas. They offer day long fishing trips, sunset dolphin tours and from November through March, take birding tours to the Aransas National Wildlife Refuge to visit the winter nesting ground of the Whooping Crane.
The whole area of Rockport, Corpus Christi and Portland Texas are great birding tour areas. In port alone we saw seagulls (of course) and many egrets.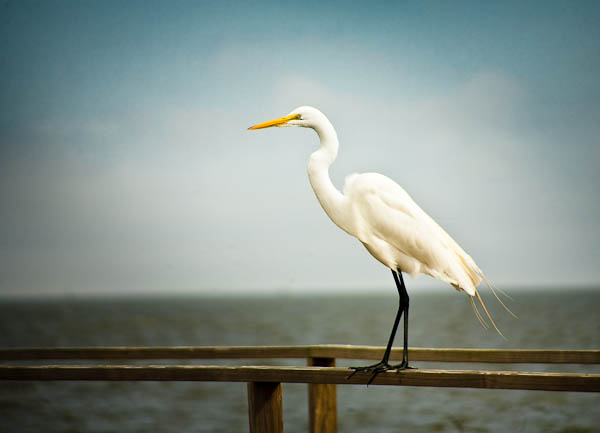 Fishermans Wharf
Darlene and I first stumbled upon Fishermans Wharf on our first trip to Port Aransas. As we toured the dock area there, we saw a fishing trip that has just come back. They hooked up and displayed all the fish from the fishing trip aboard the Wharf Cat in front of their sign.
After seeing its sheer size, we knew Dar would feel safe enough to go on a tour. It's a two level boat, air conditioned, with two heads and a beverage bar inside.
Whooping Crane Tour
We found out that there are two types of tours. One that starts from their location here in Port Aransas, two days a week and the other Whooping Crane tour in Rockport, which leaves three days a week. Basically, the boat has to sail up past the Rockport to get to the Wildlife Refuge, so can begin at either location. We choose the tour in Rockport simply because it would give us less travel time on the boat, and focus squarely on the whooping cranes.
Whooping Cranes
We saw a bunch of different types of seagulls, blue herons, terns, egrets, cormorants, roseate spoonbills, brown and white pelicans, sandhill cranes, dolphins and of course whooping cranes. As I mentioned earlier, it was as much a sandhill crane tour as it was any other bird.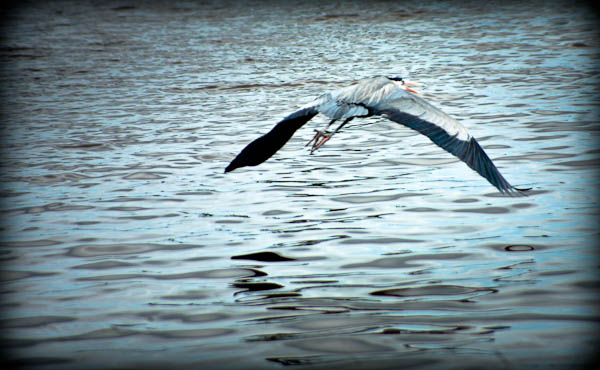 Growing up in small town Saskatchewan, my father was a hunter and taught firearm safety. He did so for over 25 years and I came to appreciate the whooping crane in a whole different way. I recall him having a patch sewn to his coat that displayed "Save the whooping crane" because of its place on the endangered species list. There are said to be only 250 of them left in the wild.
Dar here:  from what I remember there are only 3 wild flocks left with this one being the only MIGRATING flock anywhere in the world.   So they take good care of these birds to try and ensure their survival.  We saw evidence of conservation efforts but unfortunately for the birds, this year was a bad year for their food (the blue crab) so they were having a hard time finding food.  That doesn't bode well for the poor whoopers.  Made me not want to eat blue crab ever again.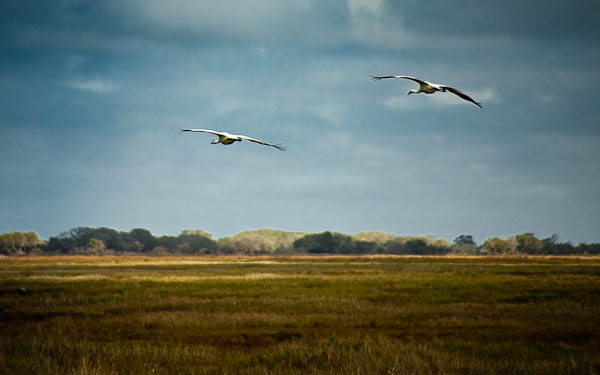 Imagine our amazement as we neared Matagorda Island and saw two "whooping cranes in flight", as our birding tour narrator Ray called out on the Wharf Cat's speaker system. The two cranes flew across the channel in front of our boat and landed in the marsh area about 100 feet from our location.   Simply amazing!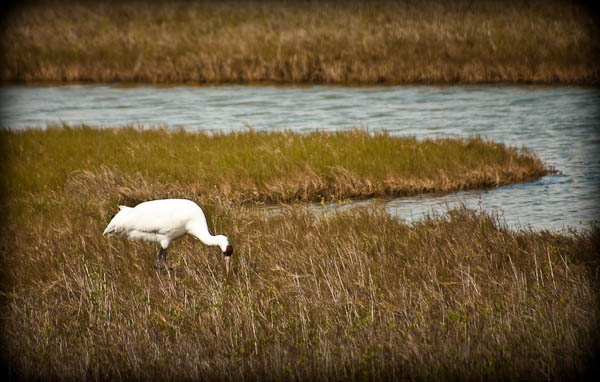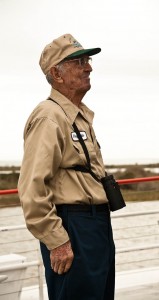 Ray our Birding Tour Expert
As a special little treat, and part of our Whooping Crane tour, the Wharf Cat staff provide the services of a professional birder who gives the riders some insight into the birds we're seeing. Ray was easily in his 70's and an excellent source of information. We enjoyed Ray's narration and explanations of what we were seeing or could possibly see. He cracked the odd joke and simply kept us very interested and entertained with our birding tour.
As we headed back to Rockport, we enjoyed the sea breeze and kept our eyes peeled for dolphins. We eventually saw some.
Dar here:  Ray also explained how to tell the difference between the sandhill and whooping cranes, as the sandhills are often mistaken for whoopers.  The Sandhills do not have the distinctive red patch on their head that the whoopers do, and the whoopers feathers are much whiter as are they larger than the sandhills.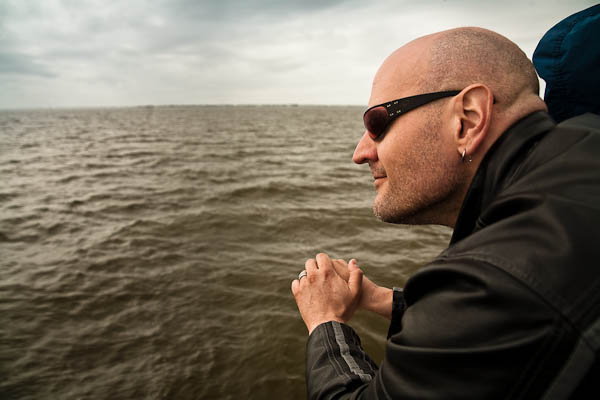 Arriving safely back in Rockport, we chose to drive around the area a bit more stopping in Fulton to see the Fulton Mansion which was closed, and then just to drive along the shoreline. We saw, more birds, of course, pelicans this time.   They were off the pier across from the Waters Edge RV Park in Fulton, which we had originally looked at as a possible RV park on the Gulf of Mexico. From what we saw, it looks like a good location and has its own private fishing pier complete with pelicans.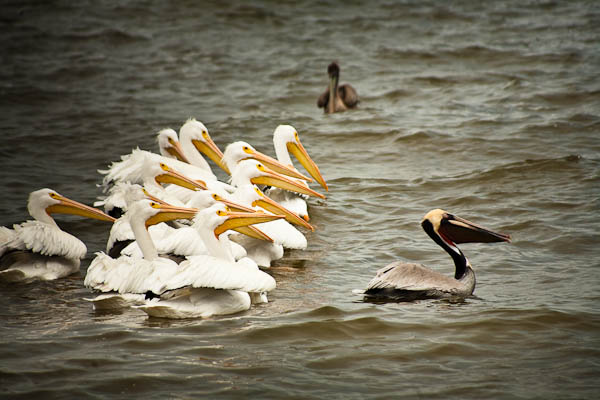 A whooping crane birding tour was not something I had ever thought I'd be doing. The birds were something I grew up knowing about but had never seen. As the cranes migrated from my home province of Alberta, all the way down here to Texas, I thought it fitting that I should take the opportunity for the birding tour. It was a day well spent. We would easily recommend the Wharf Cat tour operators as they were professional, educated and had a good operation going. If you're in the area and looking for a whooping crane tour, Look them up www.WharfCat.com