We were told that the best way to drive to the Grand Canyon from Flagstaff was to head North towards Page, but then turn East on the 64 at Cameron.  The idea is that most of the traffic heads north from Williams through the main Grand Canyon entrance there and that by going north and then east, we'd miss it.   Our two day road trip started out with a tour of the Meteor Crater and Winslow Arizona, but now, after many years flying over it, we were less than two hours away from one of the seven natural wonders of the world.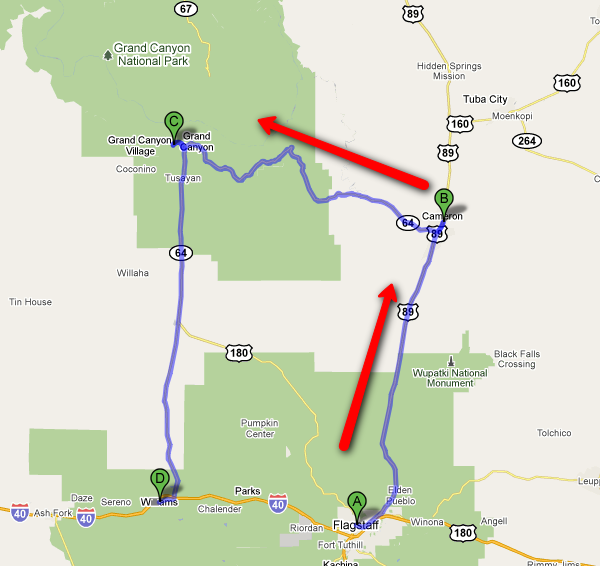 Shortly after turning east from Cameron, we found some native art and jewelry stalls set up on the side of the road and Dar had to see them.  We discovered that it was a common theme along the road we were taking to the Eastern most part of the South Rim of the Grand Canyon, but seeing as how it's their neighborhood and all, don't really give it much thought.  When you're driving to the grand canyon, obviously you expect to see where "it begins" more or less. Not as grandiose a picture as the full on experience, but I'm not sure this type of photo is shared or seen too much.  We though it appropriate, as this was our experience.
After a few miles along the road, I had to find a place to pee, so the first road without an art display, I pulled into.  Here we found a small cat that we named "Grand Canyon Kitty" which we gave water too before finding a way to leave her there and continue.
Desert View Watch Tower
Most arrive via road through the Village or by riding the Grand Canyon Railway, both by heading North from Williams Arizona.  Our approach however, provided much different scenery, easing into it as it were.  Our first stop after the park gate was at the Desert View Watch Tower, built in 1932 by Mary Elizabeth Jane Colter which I mentioned in our post from yesterday about the La Posada Hotel in Winslow.  At the time, Mary Colter was just the woman designer, but after visiting the Watch Tower, her role in the history of the Grand Canyon became more clear.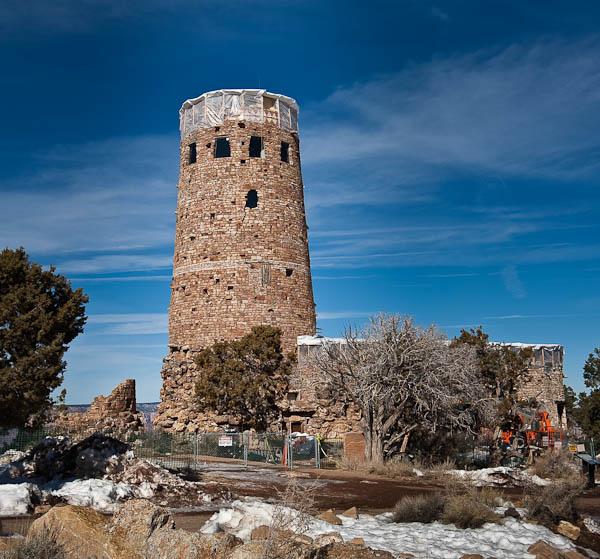 The Watch Tower at Desert View we were told was designed to provide an elevated observation point in which to see the canyon as well as a way to show early visitors the American Indian way of life.  Literature provided explains that:
The Watch Tower is not a restoration or copy of any particular Indian building, but a re-creation of the strange prehistoric towers found scattered over large areas of the Southwest.  Months of research by Mary Colter proceeded the actual construction, which took three years.
We took our first view of the canyon here, took some photographs before venturing inside the Kiva.
First, it's old and it's unique building style is apparent with bare beams above, but secondly, you're greeted by a beautiful fire place embedded in the far wall.  This first structure we entered is known as a Kiva or Sacred Ceremonial Chamber.  It's round, and often built in conjunction with the towers.  Kiva's are considered the lodge room, or meeting hall of the tribe. Stairs to the left of the entrance head up to the first level of the tower built next to it.
After climbing the first level, we were presented with a tower, narrowing slightly as it rose, with a winding staircase around the inside, allowing access to three levels above, completed by a wooden ladder to the roof in the middle of the top floor.  The observation deck on the top was closed, but the view from any of the levels was spectacular.
Watch Tower Art
Aside from what we were able to see out of the windows in the Watch Tower, the Indian art inside the tower was stunning on its own.  Renowned Hopi artist Fred Kabotie lent his skills to the decorations of the Hopi room on the first floor while artist Fred Geary decorated the ceilings of the first and second gallery by copying drawings and petro glyphs found in ancient pueblos and cliff dwellings and on rock walls scattered throughout the Southwest.  I tried to capture what I could on video on a short little video tour of the Desert View Watch Tower, while Dar photographed them.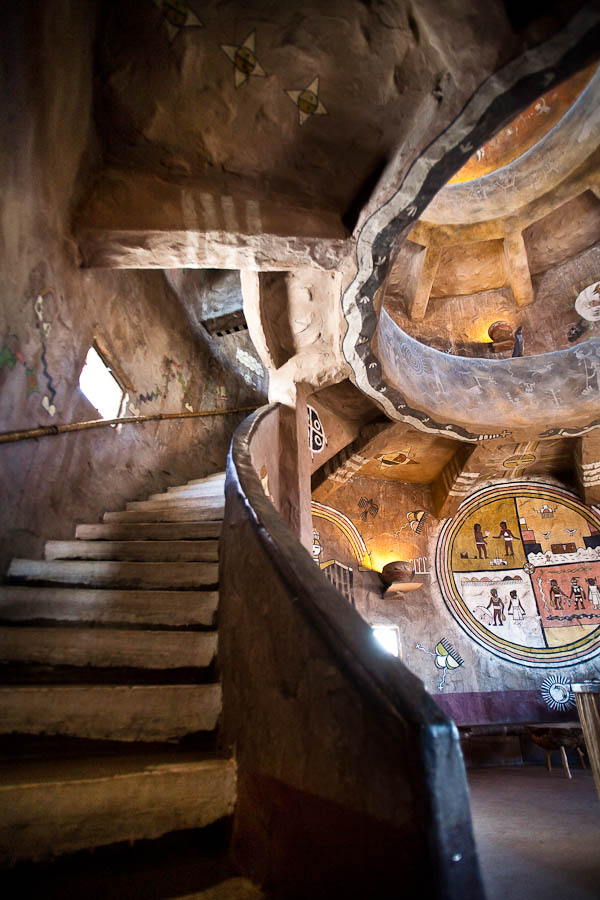 It really was quite amazing to see how Mary had turned such an important part of the Indian way of life and security into an observation area.  What would have originally been ladders up the center of the tower had been modified into modern stairs that run around the inside edge while the center opening to the top representing the intended climbing area.
Mary Colter
So here's the thing about Mary Colter that we learned.  It was pretty obvious after we walked in the door of the Kiva that Mary Colter was someone who played a large role in shaping Arizona's buildings.  We first heard the name yesterday when we were in Winslow at the La Posada Hotel but had no idea really what impact she had on the Grand Canyon.
A book about her in the gift shop caught my attention.  I picked it up and then the clerk began to explain that she had designed and built a great many of the Grand Canyon's buildings that we were about to see.  Located on the South Rim, buildings along the edge at the Grand Canyon Village such as the El Tovar Hotel and Hopi House and the Lookout Studio were her designs.  Then another 8 miles east past Powell Point and Hopi Point was Hermits Rest, another of her pieces.  Hermits Rest is not usually accessible by car as it's a shuttle only road, but during the low season, the road is opened up for car traffic.  We drove the 8 miles to see it, but due to the time of day, were more interested in the light for photography rather than seeing the building.  We only stayed a few minutes before looking for a spot to shoot the Grand Canyon sunset, but again, I get ahead of myself.
We left and headed west stopping at various view points getting more shots of the scenery along the way. I imagined my father being here years ago after retiring and his own little tour of the United States before passing away in 2005.  As I thought of following him in his footsteps, I smiled.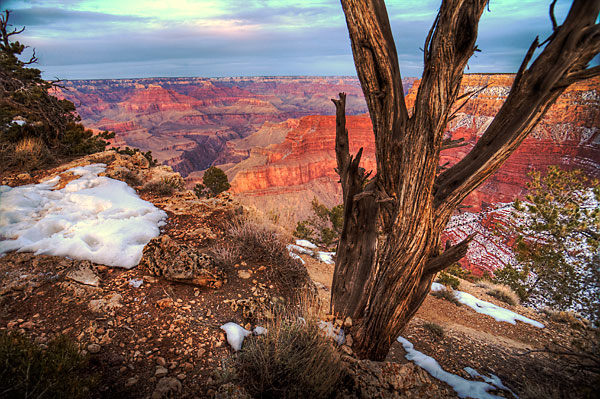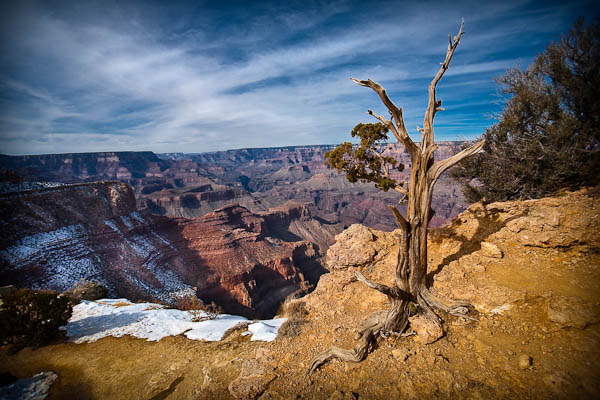 It was odd to see the type of environment the road took us through.  Trees and snow, two things we did not expect to encounter up here.  I've always thought of it being flat, rocky and hot because of all the images of the Canyon.   It was equally odd to see a sign indicating cougar crossings for the next 10 miles.
Parking on the road opposite the station where the train from Williams arrives, we saw that boarding of the train was taking place, and passengers were hurrying to the platform with gift bags from the hotels above us.  Dar had read about the Grand Canyon Train, so our timing was impeccable for some photos of it before heading up the stairs to the El Tovar Hotel.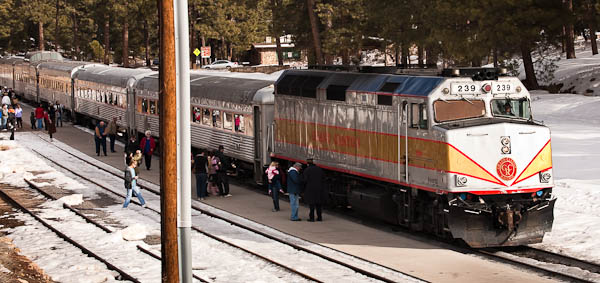 The Hopi House and El Tovar Hotel are on the east most side of the area here, followed by the Kachina Lodge, the Thunderbird Lodge and the Bright Angel Lodge.  A little further down the rim trail walking path is the Kolb Studio, literally built on the edge and into the edge of the canyon.
We had a look around the El Tovar Hotel, then popped our head into the Hopi House (I had to duck through most of the door ways) and then walked in front of the lodges on the rim trail looking for a restaurant we heard about in the Bright Angel Lodge.
This area here seemed to be the best view of the entire Canyon that we'd seen so far.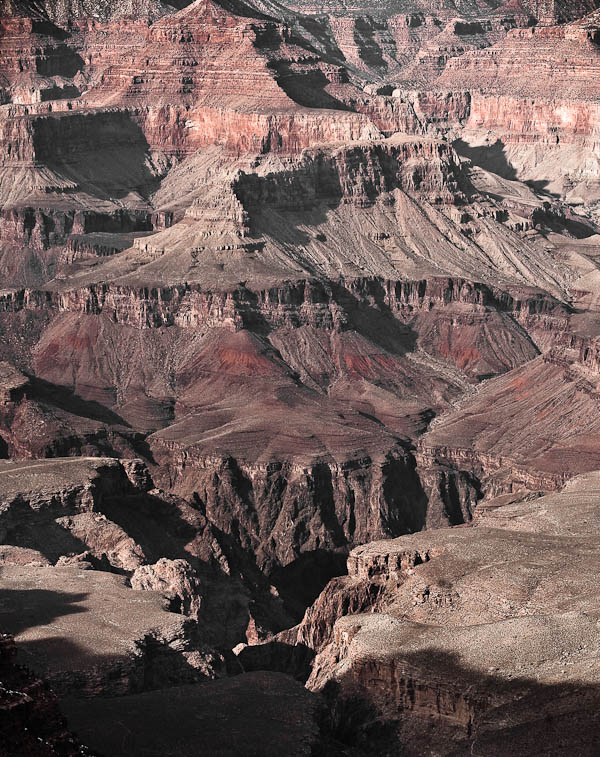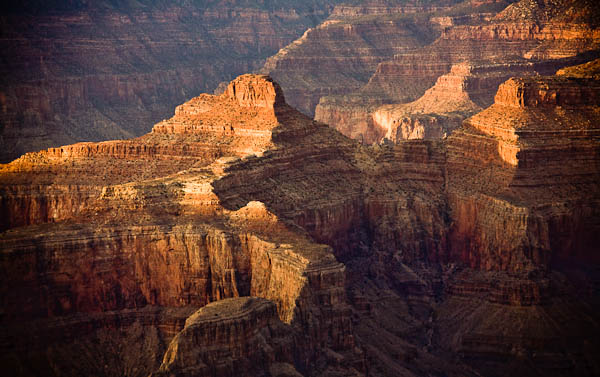 I'm pretty sure the area in front of the El Tovar Hotel is the location that Chevy Chase's character Clarke Griswold took his family to in the movie National Lampoon's Vacation, and a scene from which Darlene has quoted numerous times on our trip so far.  He's in a rush to get somewhere but the family wants to see the Canyon.  He finally gives in, but when they get to the viewpoint, bobs his head a few times as he looks out with his arm around his wife and then says, "lets go" and shuffles them on to the next location.  Total time spent for the Griswold family at the Grand Canyon?  About 15 seconds. Dar calls this "doing a Chevy Chase."
Dar took the most amazing shot of me sitting here on the ledge, but it breaks some sort of photographer prime objective and I've been forbid to use it on this page.  The horizon cuts through my head and that's a no-no I've been told.  It's one of the best shots I've had taken, so I'll have to post it on my own website and NOT give her the credit lest she be banished from the profession.
We found the restaurant, ate a fine meal, noticed that they had a bottle of Grand Canyon wine for $24 and thought "oh, we've got to have a bottle of that", but knew we could get it cheaper at the market.
While I waited for Dar to use the restroom, I had a quick look around.  The Bright Angel lodge, located literally a few feet from the edge of the Canyon rim, is the check in point for the Grand Canyon Mule Rides.  For a little less than $120, you can take a 3 hour mule ride to a lookout point along the edge of the Canyon and then back up.
Knowing that the Kolb Studio closed at 5:00 pm, we made our way down the trail to experience the view from the unique viewpoints the building had to offer.  We arrived at 4:30 and were quite disappointed.  The staff had closed up the cliff side viewing areas early so that they could get people out of the Studio sooner and close up quicker.  That was really sucky.
Grand Canyon Phantom Ranch
Walking up the trail just a bit more, we looked over the edge and down towards where the Phantom Ranch was supposed to be located.  It's down there somewhere, but we didn't see it.  The Phantom Ranch was another of Mary Colter's creations.
The Grand Canyon Lodges website describes the Phantom Ranch this way:
Phantom Ranch is a comfortable oasis nestled at the bottom of the Grand Canyon.
It is tucked in beside Bright Angel Creek on the north side of the Colorado River and is the only lodging facility below the Canyon rim.
The Ranch can only be reached by mule, by foot, or by rafting the Colorado River and is a popular stop-over point for hikers and mule riders traveling to the bottom of the Canyon via the famous Bright Angel or Kaibab trails. Open year-round.
The ranch was designed by architect Mary E. J. Colter and completed in 1922. The rustic cabins and main lodge are built of wood and native stone and do not intrude on the natural beauty and solitude of the setting. Overnight accommodations at Phantom Ranch consist of dormitory spaces and cabins. Cabins and dormitories are heated and cooled during the summer months.
Angela Murray, a hiking buddy of mine and I are planning a future trip to the bottom, across it and up the other side.  From what I understand, this is about a 24 mile trip.  Phantom Ranch will become a part of our trip, providing a welcomed break from trail food and a possible shower.  We're still not sure when we will take this on, but we've begun talking about it again.
Oh, and that Grand Canyon mule ride?  Expect to pay $480 and invest 5.5 hours in the saddle down and 6.5 hours in the saddle back up.  Price includes overnight accommodations at the Phantom Ranch.  Might be fun, but I'd rather hike it myself.
In just a few short years of being a couple, Dar has come to realize that when I visit places, I like to make sure I see both sides of things.  You never know what you might miss if you had not gone completely around the building. I've discovered some of my finest sights creating some of my best stories by this very method.
We walked back to the Bright Angel Lodge past the Buckey O'Neill Cabin, built by a William "Bucky" O'Neill in 1890, before anything else was ever here.  Bucky was an Arizona sheriff, judge, writer, newspaper editor and member of Theodore Roosevelt's Rough Riders.  At one point, he lived in Tombstone Arizona and worked for the paper there.  He became casual friends with the Earp brothers and was on hand in the town when the gunfight occurred.  Apparently, Bucky may have even been the one to report about the shootout for the paper. He moved away and then died in 1898 while in Cuba. Mary Colter used Bucky's cabin design as inspiration for what the Bright Angel Lodge would look like.  She wanted to keep the original cabin and make the rest of the lodge look like it.  It was kept as lodging for guests and is still used to this day.
Walking through the lodge and out to the train station side, we walked on the one way road up towards our car.  I spotted some deer down below next to the tracks and called out quietly to get Dar's attention.  There were 3 deer next to a tree down below, about 100 feet away.  Another fellow was taking their photos when Dar pointed out the many deer directly below where I was standing.  Less than 10 feet way, mostly downhill along the roadside slope was an entire family of deer resting in the grass.  Quite the sight.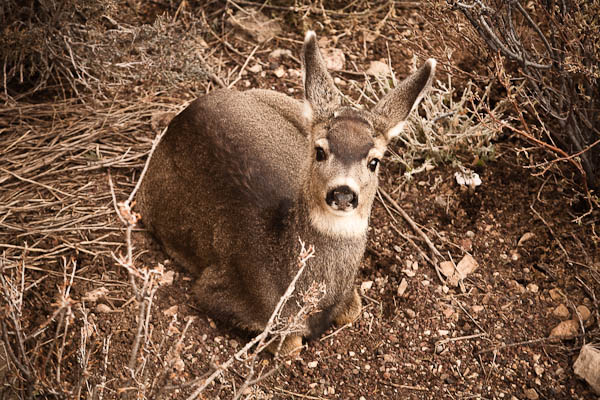 We still had the 8 mile drive out to Hermits Rest to do yet (that I mentioned in the introduction), and the sun was fading, so we bypassed all the view points and made a bee line for the end of the road.  Hermits Rest was fine, but the view was not up to shooting.  We took a couple of quick shots to prove we were there, and then raced back looking for another shot as quick as we could.
The sun had finally set and as our intention was to have dinner in Sedona, we had a long drive ahead of us yet.  We still had to drive south to Williams, then East to Flagstaff, South again and then take the road in to Sedona.  With dinner, this plan would have us getting back to our motorhome a little past midnight.
We got moving, with a quick stop at the market to pick up a bottle of the Grand Canyon wine.  There was none to be found.  Only some white which I didn't want.
We headed south with a quick stop in Tusayan which is a little place just outside the South Entrance to the park.  Not sure if it's a town or not, but it's got an enormous amount of modern hotels and food services (even a McDonalds, which doesn't really qualify as food, but you get what I mean).  Here I found the Grand Canyon red wine I was looking for for $15, $9 less than what they wanted at the Lodge earlier in the day.
Next stop was Williams for gas before heading to Sedona for dinner.
There's this thing about photographers that you either have to be one, or be married to one to understand.  When they see bright and shiny objects, time seems to stand still and any future plans are thrown out the window.  I've come to accept this as a way of life for me now.
Williams Arizona Route 66
Williams Arizona was founded in 1881 by trapper Old Bill Williams, is known as the "Gateway to the Grand Canyon", home base for the Grand Canyon Train and was the last town on Route 66 to be bypassed by Interstate Hwy 40 (I-40).  I really didn't know it had as much history as it did because like Winslow, it "wasn't much to see."
After stopping at the Circle K for gas and a pee, Dar spotted the bright and shinny Route 66 All American Diner.  Covered in neon and boasting of cars, dance music, burgers and classic history, she begged me to stop the car.
HDR she calls it, and I'm just beginning to understand it.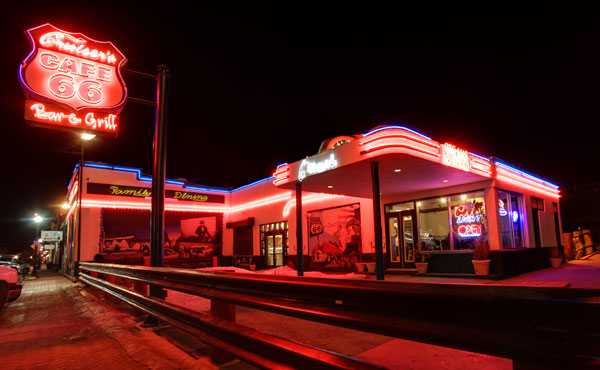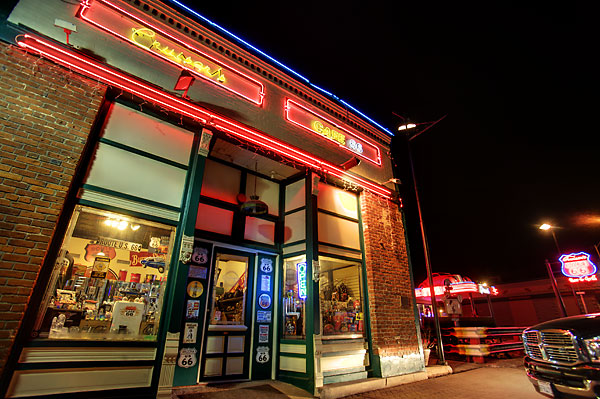 After getting some pretty cool shots of the Diner, we walked up the street looking at all the history of this Route 66 town.  While setting up the tripod on a pitch black sidewalk to shoot one of the buildings (pictured directly above), I spotted a fellow walking by.
We were hungry and decided to eliminate our stop in Sedona and just eat here.  The Route 66 Diner looked appealing, but we weren't really into burgers at the time.  I stopped the guy and asked him about food options nearby.
First place he suggested was Poncho McGillicuddy's on the corner next block over, a Mexican place.  Then he recommended a Thai place on another block and of course the diner we'd already photographed.  I say "we" photographed because I'm Dar's gear mule.  I cart the lenses and tripod when we travel.   He went on to recommend some good shots we might get if we went up another block to a real estate agent's office because of a big cat that hangs out in the front window.  He whipped out his iPhone to show us some shots he took of it.  In looking for the one particular shot he spoke of, he slowly went through some amazing images that got our attention.  HDR, I thought… sure looks like it.  Dar stopped him and asked about it.  "HDR" he said, confirming my first impression.  Turns out he's a photographer himself, so his credibility on the real estate office AND food choices improved.
We couldn't find the cat in the window, but becoming hungry, we returned to the car.  We drove up and down the two one way streets both looking for the establishments he spoke of as well as simply getting a look at what Williams had to offer.  We made two loops around before deciding on the Mexican place, Poncho McGillicuddy's.
Poncho McGillicuddy's Corner Bar
It's in my DNA I guess. I really don't know how or why, but I've let go of it a long time ago.  Maybe it's just the power of intention, but I tend to stumble upon some pretty cool things when I travel. It just works out that way.  I expect it to happen and it does.  Part of "Trusting in the Universe" I guess.
We walked into the bar side of Poncho's to see an old bar spanning practically the length of the room.  Walking past it, we headed straight for the restrooms.  I waited for Dar and looked around before choosing a place to sit.  One wall caught my attention because it had some framed photos of scenes from a movie with Robert Di Niro.  I recognized the shoots from a favorite movie of mine, Midnight Run, released in 1983.  I've seen it a number of times and can quote a few lines from the movie.  It left an impression on me and has actually affected my life in many ways.  I often think that many of my sayings and mannerisms are actually products of the movies I've watched.  I'm part Fletch, part "The Dude" from the Big Lewbowski, part John Goodman from many of his movies and a little bit of so many others.  So here were many shots of a scene from Midnight Run which I clearly remember, taking place in a bar.  Red's corner bar.  I remember the line that Charles Grodin has where he's watching Robert perform the "Litmus Configuration" on the $20 bills to check for authenticity.
Charles character asks the bar tender what the name of the bar is.
"Red's Corner Bar" he says.
"You Red?" Charles aks,
"Yes sir!"
"Do you dye your hair?" he questions…
"No."
"Why do they call you Red?"
"It's short for Redwood.  My last name is Wood."
"What's your first name?"
"Bill"
Well holy shit, if this isn't the same bar from the movie.  I actually got a little giddy and simply HAD to eat at the place where the scene was filmed.  Dar came out of the restroom and I explained what I had discovered.
Red's Corner Bar Scene from Midnight Run with Robert Di Niro
The scene from the bar begins at 1:11.
For me, traveling is a lot about being able to say "I've been there" when someone mentions a location, a movie or what have you, and this was a big one for me personally.  Stumble upon it?  I don't think so.  This was by pure power of intention.
After TWO margaritas, the only photographs taken inside the bar were out of focus lol.
Our waitress and bartender however was a perfect shot so here she is.  The only shot inside Red's Corner Bar that turned out, other than one of a Bison wearing an Irish hat I took for a friend in Ireland.
After leaving the Grand Canyon and wanting to learn more about Mary Colter, I found this description of her work:
Eleven of Colter's buildings are on the National Register of Historic Places and five have been designated National Historic Landmarks in "recognition of their exceptional value to the nation." Unfortunately, many others did not survive the 20th century.
And a fascinating account of Bucky O'Neills life and adventure too, if you're inclined to learn more.  As I write this, we are planning our travels to Corpus Christi Texas, through Tombstone where we're going to spend 3 days.  Just as we stumbled upon Mary Colter's influence on Arizona buildings, now we may be following Bucky O'Niell's life too.  We drove through Prescott where he once lived when we went to Jerome and Sedona back in October, we've seen his cabin at the Grand Canyon now and next we'll see what role he played in Tombstone too.  It'll be interesting to see how it all plays out.
After two days on the road which began with us standing on the corner in Winslow Arizona, we had begun our discovery of Mary Colter and Bucky O'Niell, visited a 50,000 year old Meteor Crater and finally after years of knowing about it, flying over it and once even driving past it a few months ago, got to see the Grand Canyon in all it's splendor.  All that plus stumbling into the location from one of my favorite movies Midnight Run, we ate and drank at Red's Corner Bar in Williams quite by accident.
Images in this post are available for purchase on the Her View Photography online gallery at Zenfolio.com.