Tombstone Arizona was next on our list of places to visit.  After three nights listening to trains go by while we tried to sleep in Whispering Palms RV Park, we unhooked our utilities, stored the RV legs and loaded up the toad.  I've always wanted to be able to say I lived in Tombstone, so we had pre-booked an RV park for three full days of sight seeing.  Famous for it's gunfight at the OK Corral, Tombstone was home to lawmen Virgil, Morgan and Wyatt Earp, Doc Holliday and the law breakers Frank and Tom McLaury, Ike and Billy Clanton.  October 26, 1881 was a day that would go down in history.
Tucson to Tombstone is a short 2 hour drive, so we took the opportunity to stop at the Colossal Cave Mountain Park on the way past.  For the most part, the mountain park is located on the east side of Tucson, out past the Pima Air and Space Museum.
Colossal Cave Mountain Park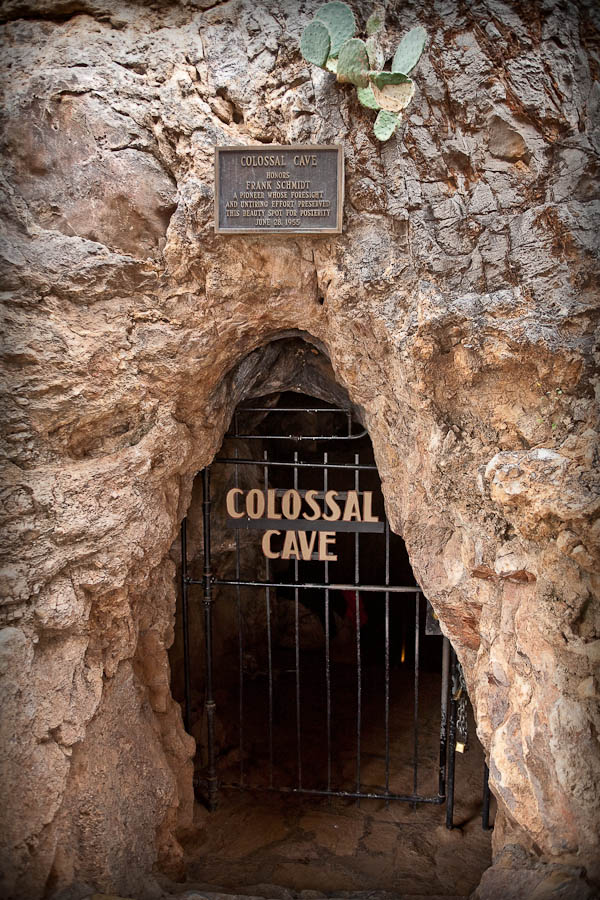 They found the cave entrance in 1879. It was first used by Hohokam Indians about 1100 years ago, but then "rediscovered" by Solomon Lick in 1879. Original tours of the cave began for a brief time in 1917. Then in 1923, Frank Schmidt reopened the Cave for tours, which have run continuously (even, on a limited basis, during the 1930s while the Civilian Conservation Corps constructed the flagstone bridges and trails and installed the lighting) since then. Colossal Cave is one of the oldest established tourist attractions in Arizona. It cost $5 to enter the park and then $11 each to go inside the cave itself.
As we had 45 minutes to wait until the next tour, I got to talking with our guide.  It was cold in Tucson today and Dar and I were both wearing jackets.  Our guide however was wearing shorts and a vest.  Not really suited for the day outside, but inside however was another story.  Inside the cave it's like summer, a balmy 70F or 21 degrees Celcius.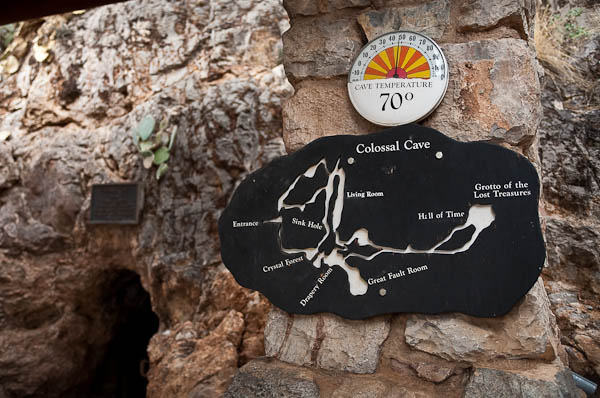 Inside the cave, your standard stalagmites and stalactites.   First time I'd ever been in this type of cave.  Very cool actually.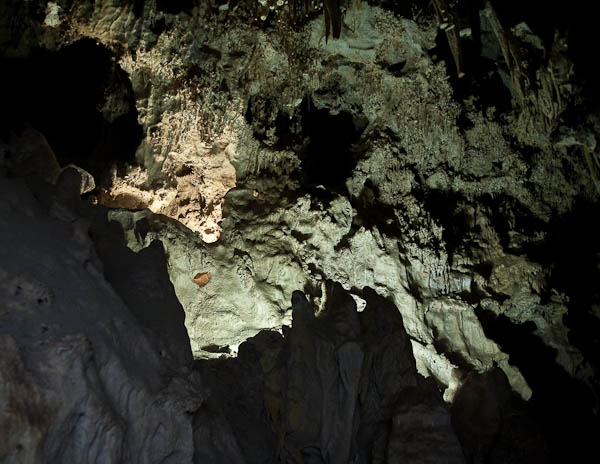 We stopped in Benson at a little place called Magaly's Mexican Food for lunch / mid afternoon meal and were pleased to find some of the best salsa of our trip so far. Our waiter grew up in Chicago, moved to Mexico City and then Los Angeles. After living in very large cities, he moved to the small town of Benson, population ~5000, to raise his three daughters. I told him that this was in the Top 2 of salsa we've had so far and he said "well, you're pretty close to the Mexican border!"
Thirty more miles and we pulled into Tombstone RV Park.
Then we left.
After registering and pulling into our spot, we were on a slope and didn't have full services. We had water and electrical, but no sewage. We tried to get the free wifi but couldn't find a signal.
We drove into Tombstone, about a mile up the road and saw Stampede RV Park a block off the main strip. We inquired and they had room. We said we'd be right back.
Tombstone RV Park offered a refund when we told them we were going to be moving to another park closer to town. Even though they offered some sort of free shuttle, they were further away than we would have liked. I wanted to be able to say that we "lived" in Tombstone for a few days, you know?
Stampede RV Park in Tombstone was 2 blocks from Big Nose Kate's Saloon and 3 from the Crystal Palace Saloon, easy walking distance for sure. We pulled in, put down the legs, leveled out and walked into town.
First Night In Tombstone Arizona
Dar said "lets take 30 minutes and walk down the drag". Ya right. A photographer loose in Tombstone with a camera is not going to be just "30 minutes."
We walked past the Ok Corral (closed for the night and quite literally a block from our RV park), down the boardwalk to the next corner. We stopped and got our bearings, looking up and down each street at the corner. The nice man in the cowboy hat and boots offered a smile and some history.
Oh, and he was packing.
I found it fitting that someone in Tombstone actually wore a real gun with their hat. We asked if we could take a picture. He said "Lets make it official then" and took of his coat. He was wearing a Marshall's badge. I didn't realize it at the time, but the hammer was cocked on his weapon.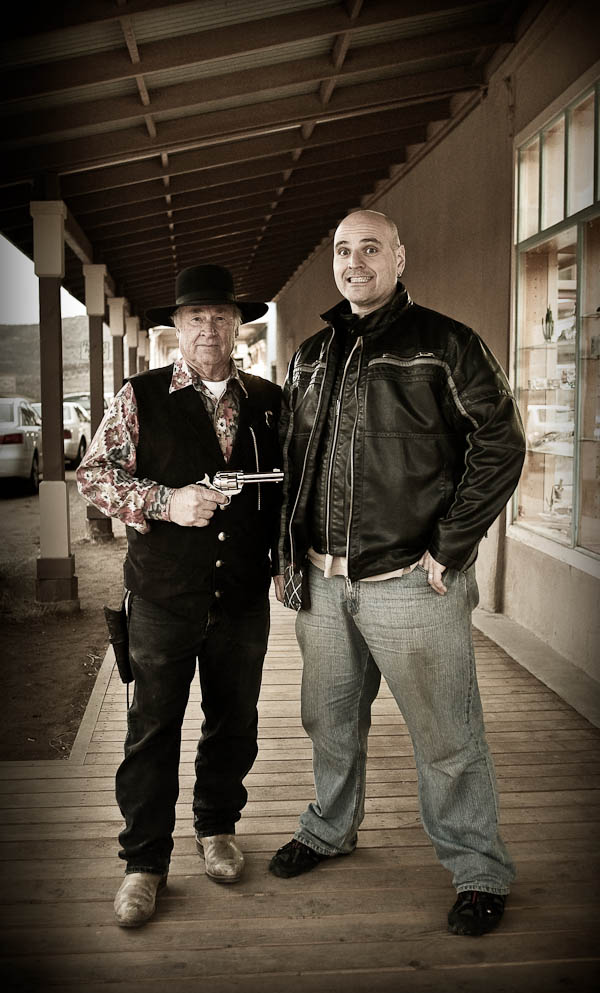 Walking down the street, we saw more of this historic town of the old west.  We thought of all the history, the gunfights, the deaths and I remembered that Bucky O'Niell had gotten one of his first editing jobs working for the Tombstone Epitaph.  Bucky O'Niell was the guy who had the first building on the edge of the Grand Canyon, remember?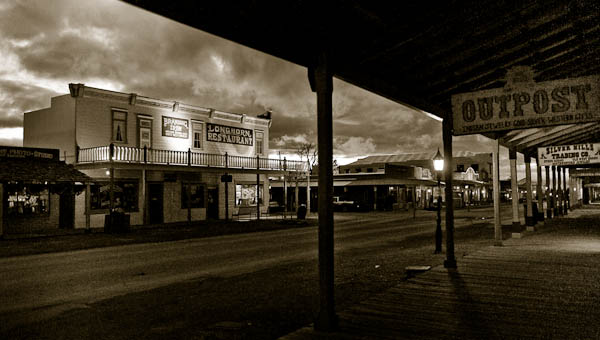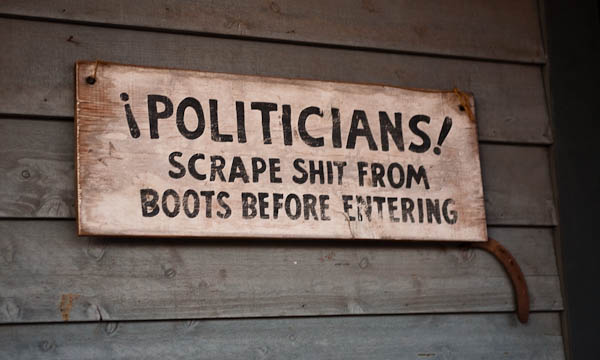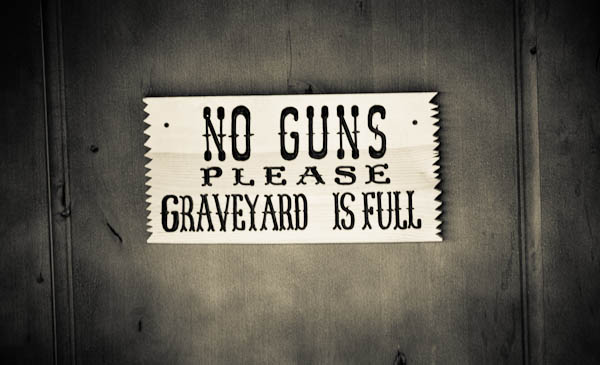 We continued down the street to the Bird Cage Theater and Saloon. It's haunted we're told, so went in to take a look around. A very nice lady (in period costume) was explaining the history of the place. A fee was charged to go any further inside, which we didn't want to do at the time. We left.
Walking past the Six Gun Saloon, we noted a sign for $2 margarita's and popped in for a drink. Part saloon and part gunfight show, the Six Gun Saloon has a mock up of Tombstone in an open area behind a covered bar. With multiple shows during the day, they tell the various stories of the events that took place in Tombstone back in the 1890's. By night, the locals come in for beverages, including the Marshall from earlier.
It was the Six Gun Saloon where we first began our experience with Tombstone politics. There are two parts to the saloon. One area, closed and covered, looks to be the oldest part of the building while the new part with the outdoor stage, saloon and roll up garage doors being the newest and catering more to the influx of tourism. The bar was dead, save for a few locals and a couple of kids. I asked our waitress what it was like to work in Tombstone and her answer was not what we expected. At the present moment, she was dealing with a couple of clients from hell in the next building. From her attitude around us, it was easy to see that she had created the situation, attracting it herself. She lived in Sierra Vista she told us, not Tombstone and she simply was not having a good night.
The Marshal offered some advice about where to eat. Stay away from the Longhorn and favor the Crystal Palace for food. Oh, and of course, the Six Gun Saloon had great burgers too. We had heard earlier that the Longhorn had an award winning chef, but the Marshall informed us that it was like the Denny's of Tombstone. Good advice we thought. We were to find out that this might not be the case at all. Again… our first experience with the politics of Tombstone.
Big Nose Kate's Saloon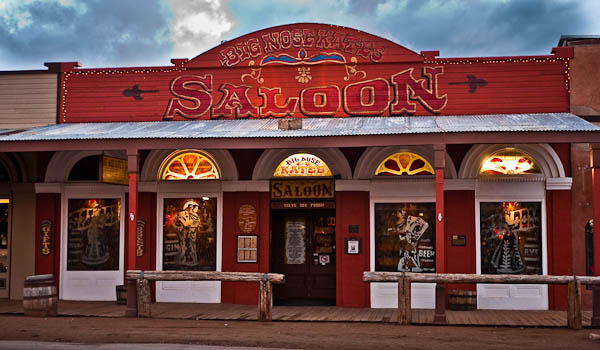 One $2 margarita and we headed back the other side of the street to our RV park. Our 30 minutes in town our first night had easily passed an hour. We walked past Big Nose Kate's Saloon and decided to pop our head in for a look.
Karaoke!
"lets sing a song" Dar said, so we pulled up a stool at the bar and ordered an $8 beer.
Soon enough, Dar and I were up singing "On the Road Again" by Willie Nelson which we thought was fitting and then Dar sang a Shania Twain tune "Who's Bed Have Your Boots Been Under" solo. Her first ever solo Karaoke and it occurred in Tombstone. I was so proud of her.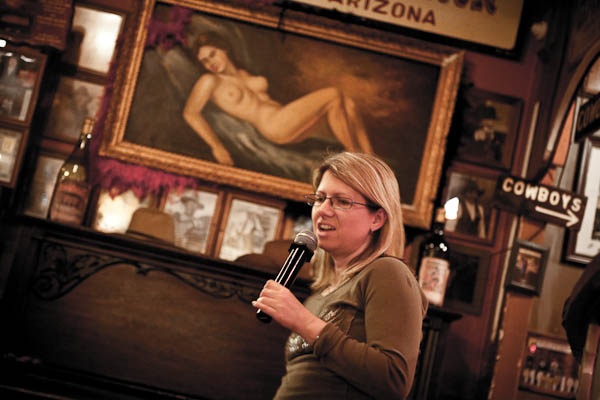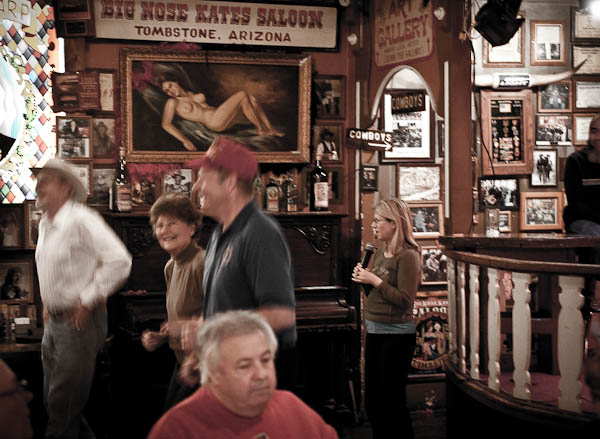 Apparently the patrons enjoyed it too as they got up and began to line dance.
Our first night in Tombstone was awesome. We headed home for some sleep.
Images in this post are available for purchase on the Her View Photography online gallery at Zenfolio.com.