After 30 days at Destiny RV park in Goodyear Arizona, we said good bye to our neighbors Bob and Joanna, packed up and began the short 2 hour trip to Tucson Arizona. One quick stop along the way at the Rooster Cogburn Ostrich Ranch to feed the Ostrich, deer, goats, mules and Lorikeets before pulling into the Whispering Palms RV Park, just off the I-10 and Prince Road.
Rooster Cogburn Ostrich Ranch
Just south of Eloy Arizona, which is about half way to Tucson from Phoenix, and on a road running parallel to the I-10 we found a place Dar really wanted to go to, the Rooster Cogburn Ostrich Ranch.
We paid the $5 each for a cup of animal food which included a little cup of nectar for the Lorikeets and walked straight up to the Ostrich. I'd seem them from a distance when I was on safari in Africa, but this would be the first time I'd touched or fed one.
Dar wanted to get some ostrich photographs, so I distracted them with the little food pellets as she snapped away.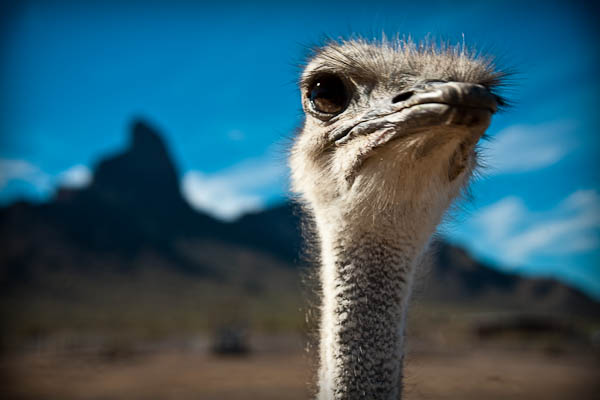 It was bound to happen, and I finally got bit. One big bugger decided that he wanted my whole hand and grabbed onto my finger. They've got no real teeth to speak of that I can tell, but their entire beaks clamp down and drag your skin off. My finger and thumb took the brunt of his "kiss".
We noticed sore spots on their necks from where they were leaning their necks over the top of the fence and it was kinda sad to see.
Next to feed were the deer.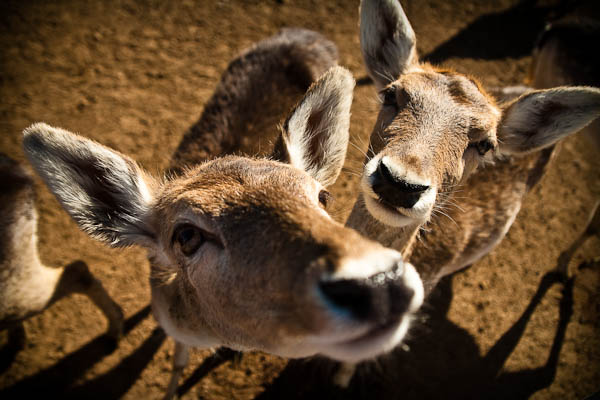 After feeding a few of them, Dar noticed that their hooves were curling up and way too long for their feet. I'd never seen that before either and we both stopped for a moment to consider what it was that we were doing. We believe that we "vote" on things by how we spend our money. We buy pasture raised chickens and organic foods, knowing that our choices in the food we eat are actually voting for a methodology. One BIG reason we do not eat fast food is because for every burger eaten, it has to be replaced and in replacing it, another animal suffers.
As we stood there feeding the deer, noticing their hooves, we both got a little sick.
As we turned to the goats and the donkeys, here too we began to feel more like we were making sure the animals got enough to eat rather than enjoying our time with them.
Lastly, we entered the Lorikeets aviary where we watched the birds play follow the leader. That was pretty cool.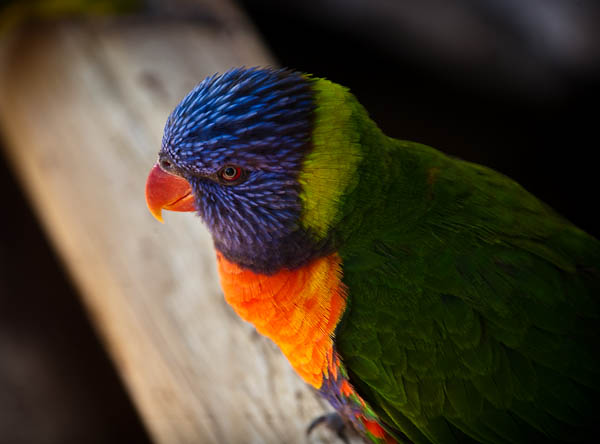 Overall, I'd say not to visit the Rooster Cogburn Ostrich Ranch, unless you feel strongly about feeding what seems to be some poorly fed animals.
Tucson Arizona
We pulled into Tucson and had a quick look at a couple of RV Parks just off the I-10 on Prince Road. We had nothing booked and were just flying by the seat of our pants here. Wanting a campsite for only 3 nights, we found that the rock and gem show was moving into town and the RV'ers had reserved all the spots.
We crossed under the I-10 to another area a few blocks away loaded with RV parks and found one able to accommodate us, called Whispering Palms RV Park.
We parked, got leveled, hooked up and then heard the train.
It was roughly 5:00 Monday night, so we thought we'd go for a drive downtown to scout out what we were going to be seeing over the next couple of days. The idea was that Darlene wanted to see museums and photo exhibits while I wanted to see the Biosphere 2 and Titan Missile Museum. Her sights were downtown Tucson, while mine were 30 minutes away in opposite directions.
Fourth Avenue Tucson
Stumbling upon fourth avenue in downtown Tucson was not an accident (see Fourth Avenue website for more info). We compared it to Whyte Ave on Edmonton's south side or fourth avenue in Vancouver's Kitsilano district in that it was a collection of whole food restaurants, head shops, alternative music and book stores and a very cool organic food co-op called "Food Conspiracy" where we stocked up on goods for the coming week.   We immediately felt at home.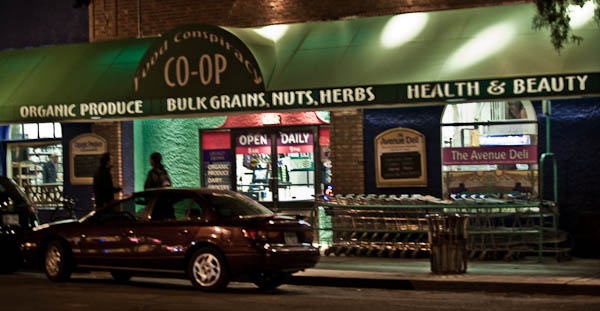 We noted a few possible places to eat and one Guatemalan restaurant stood out above the rest. We popped our head into a couple of the shops while walking up and down both sides of the avenue and then headed back to our RV for the night.
Just as we closed the RV door behind us, we heard the second of many more trains go by. Not sure where the "Whispering" in "whispering palms" comes from exactly.
Images in this post are available for purchase on the Her View Photography online gallery at Zenfolio.com.