Today we had planned on getting up and heading to Arizona, but the winds have not let up yet and gusts of up to 45 miles/hr are not safe for RV driving.  We checked the forecast and it was supposed to subside by mid afternoon, so we got a late check out from the RV park and decided to wait until about 3pm and see how it was by then.
3pm came and went and still it was windy, so we decided to get some things done (work on the blog, cook dinner finally, etc.) and stay put another night in Pahrump.
During the waiting period, Dar really wanted some pancakes so we headed off to the Nugget casino where we found her some.  While waiting for Rob to return from the bathroom after brunch, she put $5 into a nickel poker slot machine, and damned if she didn't pull up 4 aces and walk away with $104 from her $5.   Saweeeeet!
Rob worked on setting up the new BBQ so we could have chicken tonight, but by the time he figured out he didn't have the right connector to attach it to the propane tank, the RV Superstore was already closed.   So Dar improvised and made up a concoction of honey, mustard, chili chicken – not bad actually!
Our first cooked meal in the RV consisted of steamed brown rice, broccoli (also steamed), salad, and the chicken.  Quite tasty and highly nutritious!   Oh and a glass of wine to toast the occasion!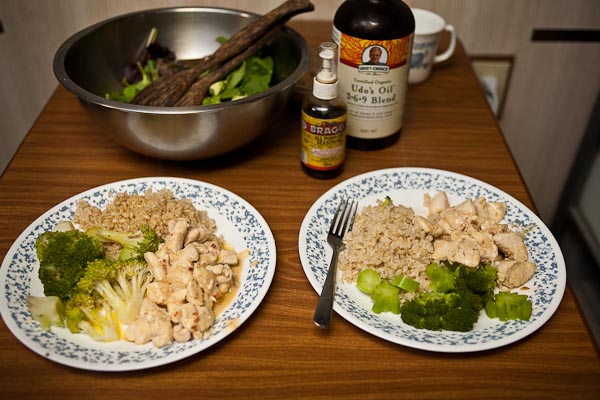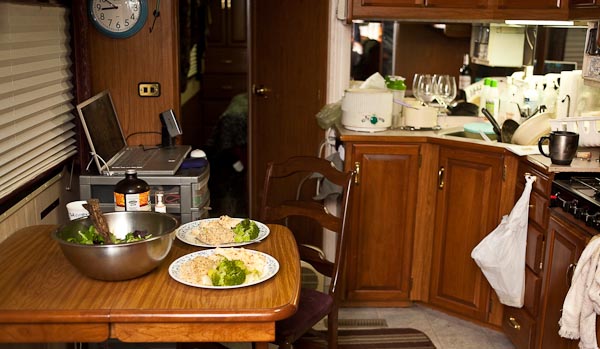 It was actually nice not to have to pack up or drive anywhere for one day, so surrendering to the elements was not a bad thing at all, and much safer.  Funny thing is, by 4:30pm the wind had almost stopped completely and we could have gone.  Oh well, c'est la vie!
Not much else to report for this day, watched some TV and went to bed.
Lessons learned:
When buying a new RV BBQ, ask about connecting parts while still at the store