With a diversity of dining options, deciding where to eat in Bisbee can be a daunting task. Dar and I both wanted to know where the locals eat in Bisbee. Before we came, we had already chosen Café Roca, but found that it was closed for renovations. There were other choices on the main street, and they looked like healthy choices, but our attention was drawn to a place called the High Desert Market and Café at the very end of town by the Iron Man statue.
We asked about whole food options, and knowing that hippies liked to eat good food asked about "vegetarian options in Bisbee". That was the best way to describe whole foods to the lay person. As Dar and I both agree, vegetarians make some of the best foods.
Go all the way through town. You'll begin to feel like you've missed it completely and then it'll show up on your right hand side by the Iron Man statue.
… we were told.
And that's exactly how it was.
High Desert Market and Café
The High Desert Market and Café offers breakfast, lunch and dinner, open from 7 am through 7 pm, and they mean it.
Imported cheeses, olives, pates, chocolates, beers and wine including locally producers, locally grown produce and even fine soaps, linens, local crafts, pottery from Mexico, Spain and France.
We walked in and looked through our meal options. We could have a selection for lunch, but diner was exactly as they had prepared and there was only one option. Interesting concept, prepare one meal and make it a really good one.
We selected our food choices and were told to sit as they'd bring our meals to us. Off the top of my head, I asked if they had any Kombucha tea. Where did that question come from. Very odd for me to have asked. "Yes, of course… bottled or locally brewed?" I was asked. Local of course. I was directed to the next room.
Smoothie, Juice and Espresso Bar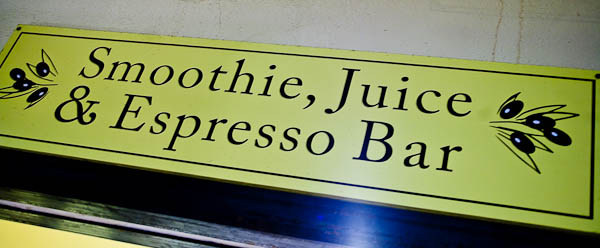 The smoothie, juice and espresso bar offers your various freshly blended or juiced vegetables and fruits, coffee's and even Kombucha in 4 oz shots.
Look at the selection available.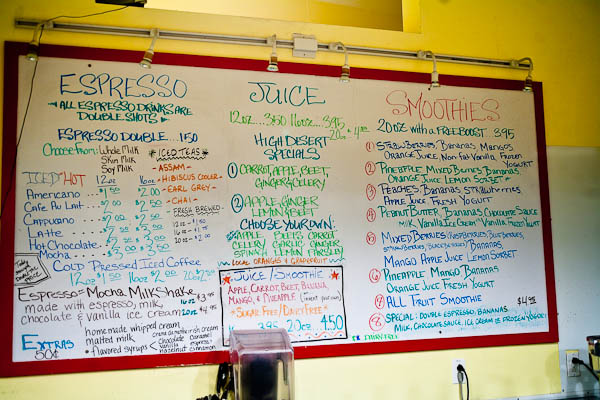 I had some local Bisbee Kombucha tea and ordered a juice.
We sat and waited for our meals which were awesome and when asking about the bill, were told to just go to the teller and tell them what we had. Are you serious? Now that's trust and we were all for it. We simply walked to the cash register and told them what we had and they rang it in there.
Diner Menu at High Desert Market and Café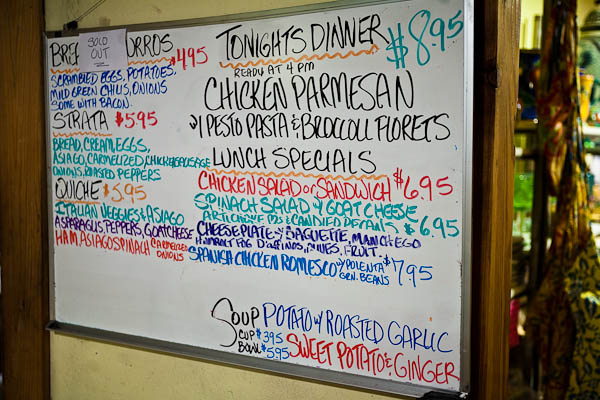 After the fantastic lunch and then seeing what was on the menu for diner, we chose to come back. We were already very happy with the quality of food and wanted more. Just as we do, the High Desert Market prepares their meal plans a week in advance. You can see their weekly meal plans online at their website.
Diner was available at 4 PM and they close at 7, so we decided on a reasonable 6 PM arrival, leaving plenty of time to eat before they closed.
We continued our tour of Bisbee and went out to get some photos of Shady Dell RV Park before returning.
They were sold out.
We Learned To Make A Reservation
What we learned was that the High Desert Market is where the locals eat in Bisbee. They seem to favor it and reserve a meal in advance. Not only do they only prepare one meal option for diner, they only prepare so much of it. It got more interesting.
We looked through what was available, made our choices and waited for our food. It was fantastic.
Over diner, Dar's lens caught the attention of a couple next to us and a conversation ensued. When finished with them, it picked up again with the fellow at the next table – a photographer himself, in from Sierra Vista. Among the photography discussion, I asked him what he was doing in Bisbee for diner? It was a quick drive he said, and the food's excellent. It's one of his favorite places to eat.
We agreed.
Where to eat in Bisbee indeed! We chose the High Desert Market and Café for it's whole food options and local produce. We like to support those who support local farmers. The locals like the café and it's a little out of Bisbee's main street bustle. We liked it a lot and will return when we visit again. This time making a reservation.