Day two in "The Big Easy" (one of New Orleans other names) started off by actually getting on the shuttle bus from the RV park this time relatively early in the morning.  I think we got on the 9:30am, first one out.  We headed straight for Café du Monde's famous coffee stand at 800 Decatur Street.
Sidebar anecdote:  funny thing, on my first trip here I was expecting to hear French spoken quite commonly.  Many of the street have French names and of course there's the French Quarter. Nope – not even a little bit. In fact, names I'd expect to be pronounced in a more French way were completely murdered, in my opinion. Decatur is one of those. I expected it to sound more like "deck-a-tour" and when I said it that way they looked at me like I had two heads. They said it "dee-katter". One of the odd things I noticed anyway. So don't try and use your French here, it's long gone.
Café au lait and Beignet
Anyway, established some time in 1862 Café du Monde  has been serving café au lait and their famous beignet donuts for 150 years.   Taken right from their site, here is the history of this coffee stand:
The Original Cafe Du Monde Coffee Stand was established in 1862 in the New Orleans French Market. The Cafe is open 24 hours a day, seven days a week. It closes only on Dec 25th and on the day an occasional Hurricane passes too close to New Orleans.

The Original Cafe du Monde is a traditional coffee shop. Its menu consists of dark roasted Coffee and Chicory, Beignets, White and Chocolate Milk, and fresh squeezed Orange Juice. The coffee is served Black or Au Lait. Au Lait means that it is mixed half and half with hot milk. Beignets are square French -style doughnuts, lavishly covered with powdered sugar. In 1988 Iced Coffee was introduced to the cafe. Soft drinks also made their debut that year.
This is the sight you'll see as you approach the sidewalk café.   What appears to be a long line up gets quickly cleared by an anxious server yelling "No line, no line!  Find a table and sit down!"   So you do and often it's to share with another couple, which we did, or join a partly empty table.  No space is wasted here and quick turn over is their goal – get you in, get you served, get you out – so they can serve more people I'm guessing and make more tips.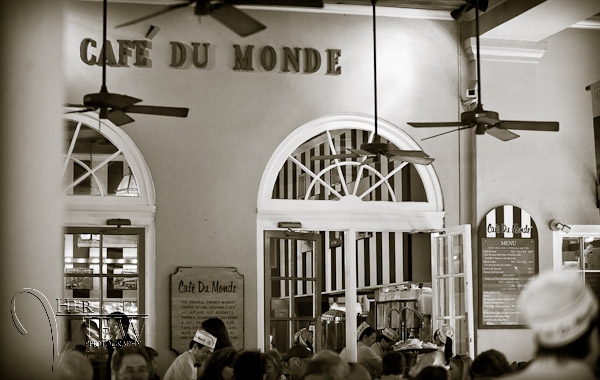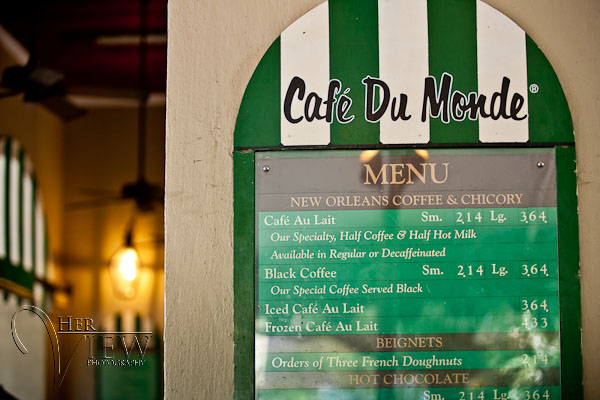 I'm sure I saw the lady in the photo below 5 years ago too, and in the TV show The Treme which we actually stepped into the set of by accident one other day (more on that later).    She's the one that ushered us in hurriedly.  I learned later that they take the customer's order, go to the back to get it, and PAY for it themselves.  Then they have to collect from the customer to cover what they paid and hopefully get a tip.  I hope they pay less than we would if we walked up to the window, but it makes sense then why they want you in and out so fast. The more served per hour, the more tips they can make.
Cafe Du Monde Beignets
Here we see people of all ages and backgrounds enjoying their beignets.  I have to admit I did have some, while Rob abstained.  But the Cafe Du Monde chicory coffee is out of this world!   I love the little girl with powdered sugar all over her face.  She was watching me take her photo, but didn't seem to mind.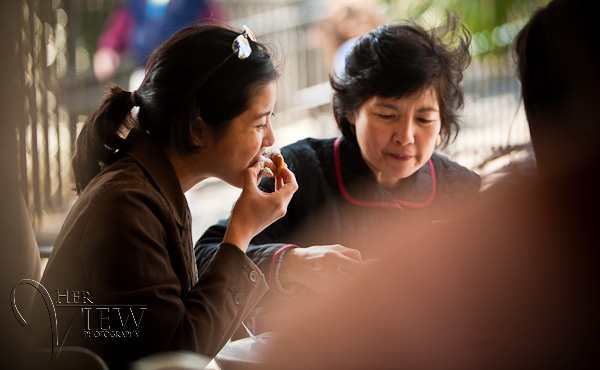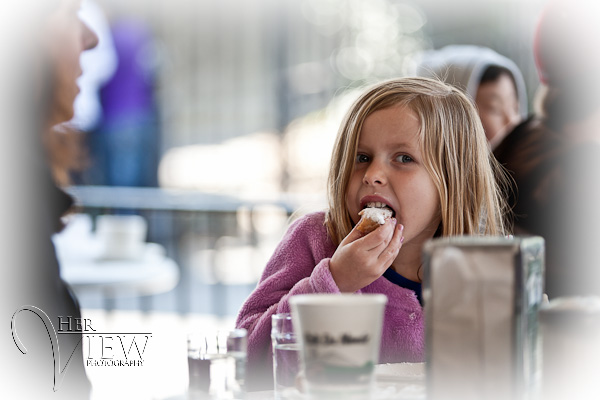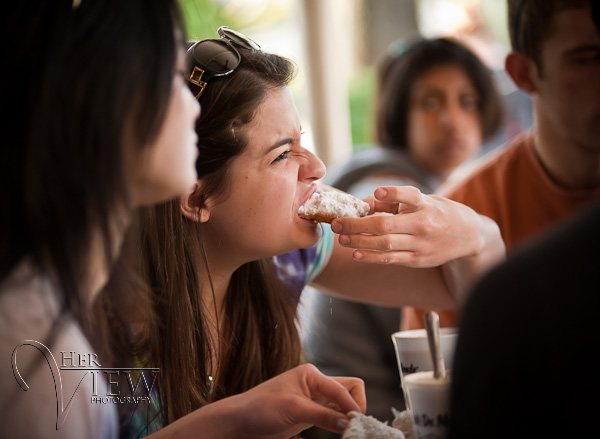 In the photos below you can see the staff, busily serving their tables.  After they collected a plate of beignets and poured the coffees, they'd go pay the cashier waiting for them at the end of the line.  I watched for a while and it's a steady stream of coffee and donuts coming out.  You'll also notice the staff counting their money, I saw that quite often too.  I'm sure they wanna make sure they are making more than they're paying for the coffee.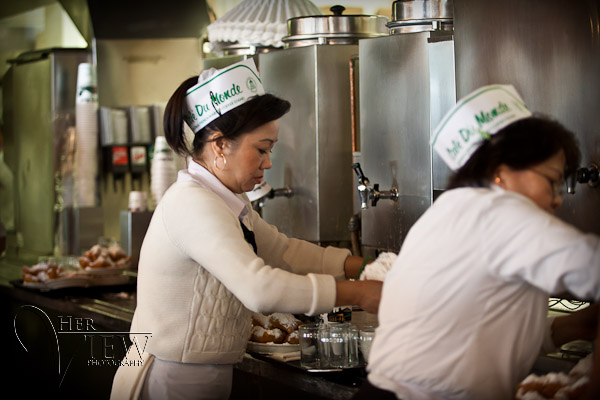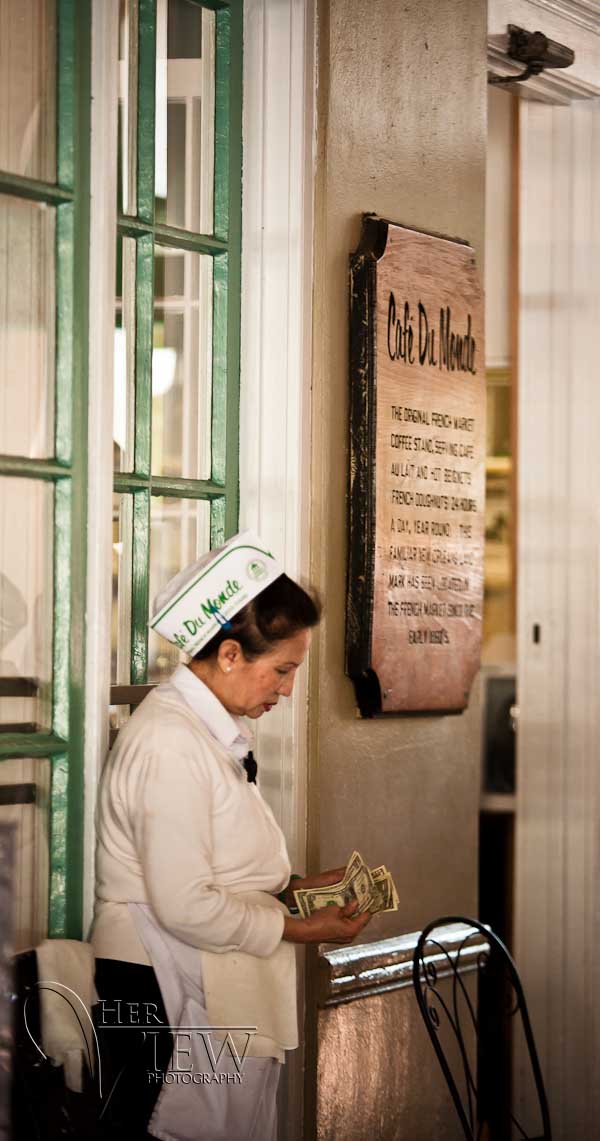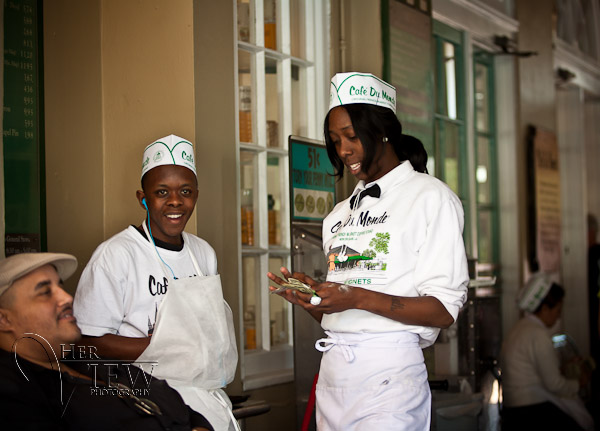 Then of course there's Cafe Du Monde take out, so here are three tips on taking stuff home with you.
order any canned coffee and/or souvenirs from your server when you order your coffee and beignets.
do NOT buy the canned coffee from any of the stores down the street or in the French Market.  A can of coffee is $5.45 in the café and you'll find it as high as $9 a few steps away.   We ended up paying about $8 a can just because we didn't want to get back in the take out line at the café.
go to the Café du Monde gift shop at 813 Decatur Street literally across the street.  They have the same prices as the café and can ship stuff if you need that service.   See photo of the sign below so you know what to look for.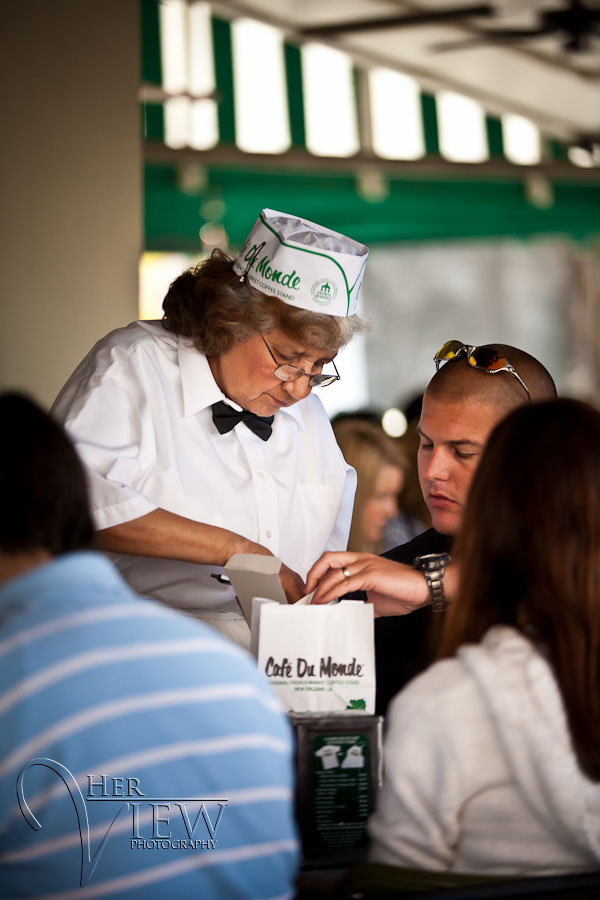 New Orleans French Market
A short stroll north up Decatur street and you get to the French Market.   As the sign below indicates it was here well before the café, and is the oldest city market in America.  It has changed quite a bit since my fist visit in January 2005.  The junk and tent stalls have been replaced with permanent stalls with secure windows and doors and the vendors have gone from dollar store nick nacks to really nice hand made crafts, food items, art, produce and more.  A place locals and tourists alike visit.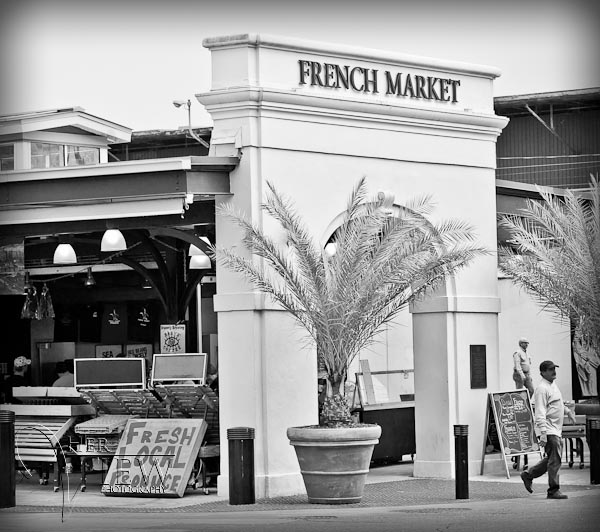 This happy guy's name is Oscar.  He makes resin jewelry that is very colorful, just like him.  I talked to him for a while and listened to his story of Katrina and how his life has been different since that day.  He talked about how hard it was to come back and for him there were no customers, no tourists, so his market had disappeared here.   He told me he lived in another city, I can't remember where now, and started coming back on weekends once the market reopened and finally moved back home.  But it was a tough go for him and many other locals.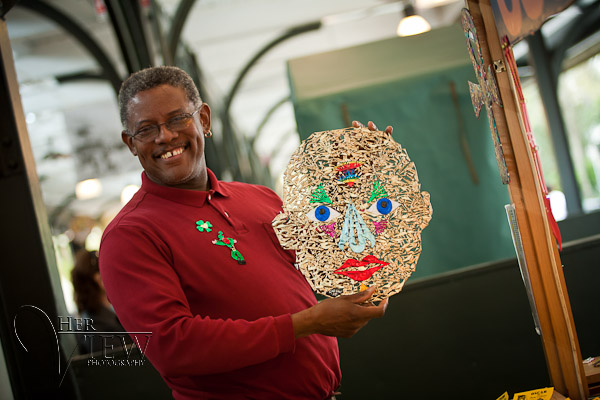 I talked to two other ladies as we ate lunch and they live in East New Orleans and said many things are still not opened like stores, schools, clinics.  They have to travel farther now to find those things.  All of the people I talked to were super nice and seemed eager to talk about their experience to someone that was really listening.    I feel for the people of New Orleans who, in many ways, have been treated like second class citizens in their country.   I bought a couple books on the disaster, one on a group that rescued stranded pets after they had been left behind by their owners.  The sad thing was the city told the people to leave them behind, that they'd only be gone a day or two at most.  2-3 weeks later many of those pets were still tied up to leashes, left in homes with 8′ of water, or left to wander the streets to find food.  Some were found still treading water as they were tied to something and couldn't get away.   I don't want to get on a rant, but this was a disaster of mammoth proportions that was utterly and completely preventable and it's shameful how the government on all levels (municipal, state and federal) responded.  (stepping off my soap box now).
Anyhow, continuing on  – we had what was probably our best meal in New Orleans at a place in the French Market that I'd found out about on the internet (what a great resource hey?!).
Meals From The Heart
Meals from the Heart advertises low sodium, low fat and no transfat – fabulous!  In a city full of rich, heavy foods this was a great find!   We totally loved the food and have recommended it to others already, and they loved it too.  If you are looking for a nice light, clean meal – this is the place to go.  They also do catering and bulk orders – take home a couple dozen crab cakes today!